The Saintly Bible: An Exhaustive Guide to the Immortal Works of Leslie Charteris and his Saint Saga
On September 20, 1985 I began a bibliography project that has progressed into the 262 page manuscript named The Saintly Bible. Little knowing what I was starting on that day in 1985, I took my pencil in hand and started to write down all of the books that were in the Santa Cruz library's card catalog. I carefully took down the dates in order to put the series into sequence, making sure to note any discrepancies or oddities. Then, to double-check, I took the entire stack of available Saint books over to a table and started going through them one at a time. Some of them included a list of other books by the same author, others contained a list of the Saint books up to that date. I checked out a few of the more comprehensive ones and returned home to my computer. The two page word processing document that I created on my Apple //e (with AppleWorks) that day is still with me. It has become the root of my bibliographic project which is now almost fit for publication. The Saintly Bible, has been the focal point of my collection. On May 16, 1989, I coverted the entire project to Microsoft Works for Macintosh, and then finally to Microsoft Word in January 1990.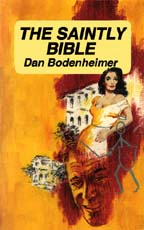 In 1995 I got serious about my developing interest in the World Wide Web, and late in the year purchased a domain and put some of my bibliography of Leslie Charteris into HTML format. I coded non-stop over a long weekend and then on Wednesday, October 18, 1995 I got my site up and running and got my first hit! Thus www.saint.org was born! I used the entire history of HTML editors: TeachText, SimpleText, Claris Home Page, PageMill, SiteMill, BBEdit, and the obvious favored SaintEdit! As I write this paragraph in 2006, I'm using Bare Bones Software's TextWrangler on an Apple Macintosh Powerbook G4 running OS X 10.4.7! Ah, how the times have changed... back to a text editor of all things.
As the years have gone by, I discovered that only one bibliography of Charteris is in existence. The Saint and Leslie Charteris by W.O.G. Lofts and Derek Adley is sadly lacking in many respects. It only encompasses British first editions up until 1972, and completely ignores anything pertaining to the United States. This fact inspired me to elaborate on my project, and gave me reassurance that I was breaking new ground. Many of my purchases have been made in order to gather data to shore up weak areas in my bibliography. The scope of my collection is directly related to The Saintly Bible, as all that I have obtained has been listed or otherwise used in making it more complete.
My work on this project has been quite extensive, and I have made two visits to the Leslie Charteris archive at Boston University's Mugar Memorial Library. I was granted full rein by Leslie Charteris, and permission to photocopy anything that I needed for my book. I arranged one of my trips to coincide with another author, Burl Barer, who was working on a more historical portrayal of the Saint.
I have recently been working on finding a stopping point. I want to have something available when the new Saint movie comes out, and this project seems to be never-ending. Since I started this web site, I have been editing the full version of The Saintly Bible a bit, especially places where the information is duplicated in other chapters.
How to get a copy of The Saintly Bible
This web site (www.saint.org) is all that is available to the public at this point in time. I am looking for a print publisher for the entire Saintly Bible, so if you have any contacts please have them email me at saint at this domain (@saint.org).

I am also considering printing up some proof copies to sell to excited Saint fans who have seen this web site. A signed proof copy would require some sort of monetary donation, as well as some help with corrections, changes, and other feedback. Donate today!
Table of Contents (of full version)
Acknowledgements, page 4
Forward by Leslie Charteris, page 7
Table of Contents, page 9
Quick List of Titles, page 11
Biography, page 15
The Saint Books, page 23
Omnibus Collections, page 135
Non-Saint Writings, page 157
Unpublished Rarities, page 175
The Saint's Choice, page 183
Saintly Publishers, page 185
The Saint Mystery Library, page 196
Sherlock Holmes, page 199
Comic Books/Strips, page 202
Edited by Charteris, page 204
Mai-Kai Happy Talk, page 205
Gourmet Magazine, page 206
A Letter from The Saint, page 208
Screenplays, page 210
The Saint in Film, page 212
The Saint on Television, page 214
The Saint on Radio, page 216
The Saint Magazine (USA), page 218
The Saint Magazine (UK), page 224
The Saint Magazine, Misc., page 228
Periodicals/Magazines, page 231
British Annuals, page 240
Toys et al, page 243
The Saint Club, page 244
Sources, page 246
Index, page 248
The End, page 262