The Saint's Hirondel
The Mythical Hirondel from The Saint Books

In the Saint books by Leslie Charteris, Simon Templar drove a Hirondel (sometimes misspelled as Hirondelle). The problem that the television producers had when they started to produce the 1960's Saint TV series was that the Hirondel was a fictional car. They decided to go with a contemporary car, and had two hot new sports cars to choose from: the Volvo P1800 or the Jaguar XK-E. Volvo was happy to supply a beautiful white P1800 for the show, leaving Jaguar to regret their decision not to provide a XK-E (something they rectified in the 1970's by giving The Return of The Saint show a white XJ-S).

While the Hirondel was not the only fictional car that Charteris placed the Saint into over the years -- the others included the Furillac and Desurio -- the Hirondel was certainly the most prominent and attention-gathering! The Hirondel was a heart-stopping red and cream sedan, weighing in at over 5,000 lbs, and requiring a light touch on the gas pedal to get anything over 3 to 4 mpg (and with Simon Templar's driving, you can be sure that those figures were often correct). With eight cylinders, this flamboyant and magnificent monster had a heady top speed and throaty exhausts that could be heard for miles.

Car and Driver editor, Waren Wieth remarked that the Hirondel "makes Mr. Bond's Aston Martin sound like a rental from Hertz" in his "Hymn to a Hirondel."

The Last Hero
Some who saw the passage of the Saint that night will remember it to the end of their lives; for the Hirondel, as though recognising the hand of a master at its wheel, became almost a living thing. King of the Road its makers called it, but that night the Hirondel was more than a king: it was the incarnation and apotheosis of all cars. For the Saint drove with the devil at his shoulder, and the Hirondel took its mood from his. If this had been a superstitious age, those who saw it would have crossed themselves and sworn that it was no car at all they saw that night but a snarling silver fiend that roared through London on the wings of an unearthly wind.
Hirondel issue of Automobile Quarterly
The mighty and mythical Hirondel was covered in the First Quarter 1972 issue of Automobile Quarterly (volume 10, number 1), with five different artists presenting their representations of Simon Templar's famous automobile.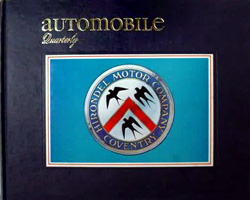 Articles in the 1st Quarter 1972 issue included:

Simon Templar's Hirondel
The Soap Engine
Rolls-Royce by Fernandez and Darrin
The Opel GT
Bol D'Or
T-Head Mercer Raceabout
Model T Ford Raceabout
AC and the 427 Cobra