The Saint's Lamborghini Countach
The 1985 Black Lamborghini Countach 5000QV from The Saint in Manhattan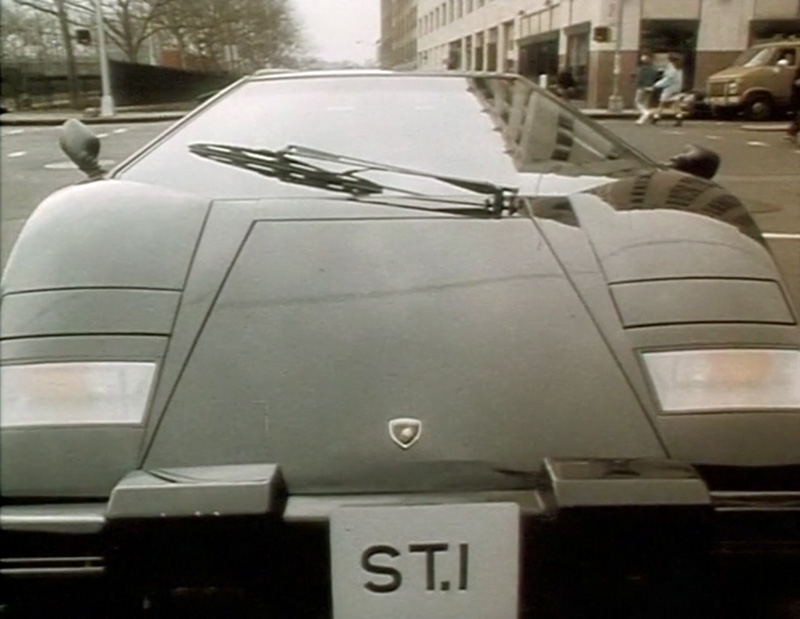 Simon Templar in a black Lamborghini? Really? That's what many true fans thought when they first saw the 1987 television pilot, The Saint in Manhattan. In the show, Andrew Clarke played Simon Templar, alias The Saint, and wore a mustache.

Clearly, the producers of the new television series were trying to capitalize on the success of Magnum P.I. with Tom Selleck. Using the mustached Selleck and his red Ferrari as basis, they arranged to have the Saint drive the most exotic Italian super car on the market, fresh with ST1 license plates: a gleaming black Lamborghini Countach 5000 Quattrovalvole (QV)!



The Saint's Specifications
The 1985 edition of the Countach had an improved engine, bored and stroked to a larger 5.2 litres (5,167 cc) and given four valves per cylinder (quattrovalvole in Italian). The Saint's car was a US specification model, produced by Lamborghini themselves for the first time. Earlier models had to be retrofitted after-market to get US registration. The Saint's bumpers were modified from the European version to meet US federal standards -- and many other customers immediately removed the bulky looking bumpers, as unless the car was painted black to match the bumpers, they really ruined the smooth perfectly wedge-shaped lines of the car's body.

Simon Templar's Countach also had another change from the pure Italian version, with Bosch K-Jetronic fuel injection providing 420 PS (309 kW; 414 hp), rather than the six Weber carburettors providing 455 bhp (339 kW; 461 PS) that normally came on the car for sale in other countries. The fuel injection was necessary to meet the ever-more stringent United States emissions regulations.

The base price for the 1985 US model was just about $100,000 even. Templar's car was fully loaded, with the only two optional extras added -- of course! The back wing aerodynamic spoiler added an additional $5,500 to the price, and obviously an impressive stereo sound system was required, all at a mere $7,500. The Saint's car could possible be an 1987 model, but many of the 1987 and 1988 model Quattrovalvoles had straked sideskirts at the lower door -- and those don't appear on Templar's racer.
The Car Used in the Filming
The Lamborghini used in the TV show came from Meadowlands Car Imports according to the end credits, and we'd love to know what became of them or their car! There is a rumor that someone, whether Clarke or a stunt driver, crashed the Lambo during filming. There was a great color photo of Clark standing between the car and the helicopter that the National Enquirer ran in '87 before the pilot aired -- we don't have a copy of that, and would love to find one.
Screenshots