My 1972 Volvo 1800E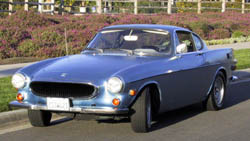 I bought this Volvo in 1992 and drove it daily as my only vehicle until I purchased a 1999 Volvo S70 GLT in September 2002.
I have kept it meticulously maintained by the experts at Scandia Volvo, and it is running really well.
The car features the original 2.0 liter fuel injected engine, with a four-speed plus overdrive manual transmission. The fuel injector jets are all new, as are the timing gears, and many of the fuel injector components. I converted this car to electronic ignition after fighting with the points for about 8 years -- which included completely replacing all the ignition parts including the distributor. While you might think that it is nice to have an all-original car, I can tell you that if you are actually going to drive it, you do not want points... they had to be cleaned or replaced every six months. The car starts up first time, with just turning the key. No gas pedal or anything else is needed to start -- ah, I sure do miss the good old days of the early 1800's, what with the manual choke and dual carburetors that took quite a while to warm up.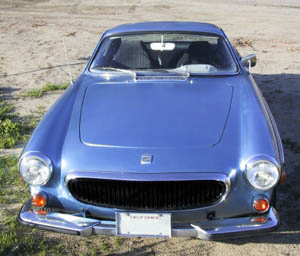 All the gauges work, including the clock. The radio is a professionally installed Alpine CD player with AM and FM radio.
The tires are top quality Bridgestone Protenza all-weather radials, and the car has new IPD lowering springs, Bilstein gas shocks, and IPD heavy-duty sway bars front and rear. The car handles like a slot car, and takes turns extremely flat and fast.
The mileage on the speedometer is just 202,752 miles on a 30-year old car. The speedometer is accurate as far as I know, and it does not trip-over until a million miles.
This car is a very strong example of a very slightly-modified 1972 1800E, the last year of the 1800 series. It is quite near original, and any modifications were only made to make the car handle better or run better than original, and can be undone fairly easily.
The car is an original California car.

Car SOLD on March 16, 2003 to a chap in Seattle, Washington.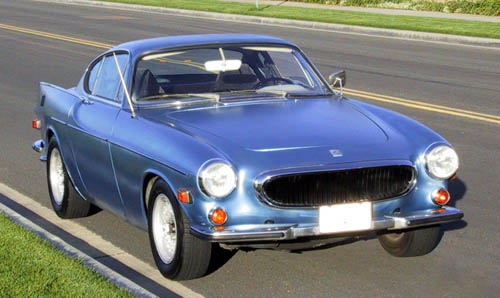 ---

More Photos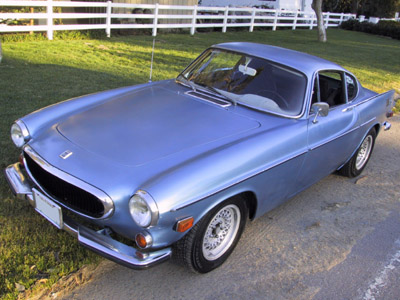 Here is a photo I took of my metallic blue 1972 Volvo 1800E in San Diego, California in February 2003.
[ Full Size ]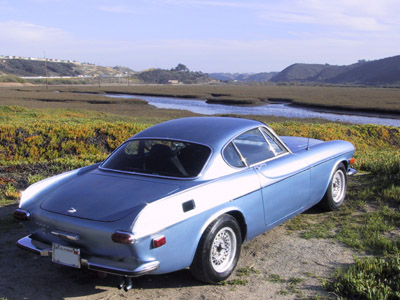 This photo shows the back of the car near Torrey Pines State Beach.
[ Full Size ]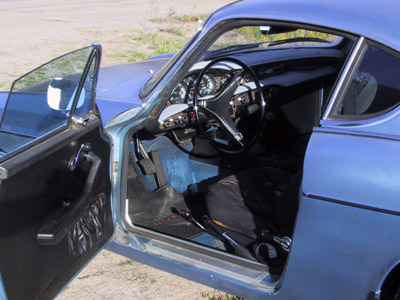 Click on the image or link to see better detail of the interior of the 1972 Volvo 1800E. The 1972 had a completely redesigned interior that matched the combined needs of both the 1800E and the 1800ES, released in 1972. The seats are high-back with integrated headrests. The rear fold-down seats fold down differently than the previous years -- they fold down in such a way as to line up with the back shelf (this works out better in the 1800ES as then you have a much larger and flatter back deck). The door panels were also modified in 1972, so they are much different than any other 1800 model expect for the ES.
[ Full Size ]