2001's Saint and Charteris News
Please e-mail any current news and rumors about The Saint to:


December 21, 2001: A&E Video News
When looking at the great new Saint A&E video sets, it appears that they skipped over two of the 1966 episodes, "The House on Dragon's Rock" and "The Man Who Gambled With Life". A&E reports that they are following the original broadcast order, not the production order. Although those two episodes were produced in 1966, for some reason they did not air until 1968-69, therefore both episodes will be included in future sets.
December 14, 2001: Support www.saint.org
Your support is greatly appreciated; if you enjoy this web site please contribute a small amount to keeping it going strong.
December 8, 2001: Saintly Christmas Letters
A Saint fan, taking advantage of the wonders of modern technology and a generous increase in leisure time, has started putting the text of Christmas letters past on to the web.

So far, all of the letters from 1984 to 1994 have been posted to http://www.ogham.org/theepistle/letters/

If anyone has copies of Christmas letters from before 1984, and feels inclined make to a transcipt, a high quality scanned image, or even a photocopy, please send them in!

The Christmas letter from 1996 is archived at http://www.saint.org/xmas96.htm
December 8, 2001: Gourmet Reprint
The December 2001 edition of Gourmet magazine features a recipe by Leslie Charteris.

In "The Way We Were" writer Lawrence Karol has dug out a Charteris article from the February 1950 edition of Gourmet magazine and reprints a few choice Charteris comments plus, of course, a rather fine recipe.

One-of-each soup features not only vegetables, but fruit as well, and according to Ian Dickerson -- who's worked his way through most of the Saint's cookbook -- tastes surprisingly good.
November 29, 2001: Saint Artist
Sad to note the passing of actor and singer Norman Lumsden, aged 95, who English Saints will remember as J.R Hartley in the Yellow Pages adverts on TV.

As an actor he'd done time in "Jeeves & Wooster" and "Poirot" amongst many other productions but it was his work as an artist that will prove fascinating to fans of Simon Templar. Back in the early 1940s he produced the artwork for many a book cover, including a fair number of the Hodder Yellowjacket Saint titles.

Ian Dickerson writes:
"Norman Lumsden was gracious enough to spare me a few hours of his time several years ago and he happily recounted tales from his work for Hodder & Stoughton and other publishers. I must dig out the interview sometime. Also he was kind enough to give me copies of some of the work he was commissioned to do by Leslie himself, including a Saintly Christmas Card and extensive artwork for a Saint calendar which never materialised. Yet."
November 27, 2001: More Saint Video Releases from A&E
A&E has posted information and ordering pages on their site for additional Saint releases on DVD and VHS. These sets are now available at discounted prices from Amazon.com, but will not be shipping until January 2, 2002.

The Saint #3 DVD Set, Part Number AAE-70347, $39.95
Includes bonus features, and twice as many shows as the VHS sets. Episodes include:

Flight Plan
Escape Route
The Persistent Patriots
The Fast Women
The Death Game
The Art Collectors
To Kill A Saint

The Saint #4 DVD Set, Part Number AAE-70350, $39.95
Includes bonus features, and twice as many shows as the VHS sets. Episodes include:

The Counterfeit Countess
Simon And Delilah
Island Of Chance
The Gadget Lovers
A Double In Diamonds
The Power Artists
When Spring is Sprung

The Saint #3 VHS Set, Part Number AAE-18262, $29.95
Episodes include:

The Angel's Eye
The Man Who Liked Lions
The Better Mousetrap




The Saint #4 VHS Set, Part Number AAE-18266, $29.95
Episodes include:

Little Girl Lost
The Paper Chase
Locate and Destroy
October 30, 2001: New A&E Video Sets Coming
A&E Home Video has announced video sets #3 and #4 of The Saint. These are due on November 27, 2001, and will be available in both DVD and VHS formats.
October 26, 2001: Lady on a Train
Lady on a Train is one of the films that Leslie Charteris wrote during his stint in Hollywood. The film stars Deanna Durbin, and is an excellent blend of romantic comedy and whodunit mystery.

This classic plot has Deanna witnessing a murder, and then getting mixed up with the victim's nutty family. The idea of a person witnessing a murder from a train, or on a passing train, is similar to an Agatha Christie story, and was also used in 1978 The Return of The Saint episode, "Signal Stop".
October 24, 2001: Burl Barer's Latest
Head Shot by noted saintly author, Burl Barer, is now available from Amazon.com for $6.50 in paperback. Head Shot is another of Burl's ventures into the darkness and reality of true crime stories. Burl Barer is the author of the following books:
October 20, 2001: Great Guide To French Saint Books
Jean-Marc Lofficier has done a wonderful job of creating a site dedicated to the Saint books that were published in French. As some of you know, many of the French books are unique, and were never published in English -- they were based on the NY Herald-Tribune comic strips that Charteris authored, and translated into French novel form by special permission.

Jean-Marc's Illustrated History of the French "Saint" Novels at http://www.lofficier.com/saint.html is highly recommended for all Saint fans.
October 7, 2001: Saint on Israeli TV
The Return of the Saint is now being broadcasted in Israel. It's on a channel called "Yes+", Wednesdays on 9:15. The Hebrew translation is "Return of the Angel", and also the Val Kilmer movie was called "The Angel". The problem is that there is no real good word for "Saint", in Hebrew. The real translation of it, is more close in its meaning to the word "Holy".
September 23, 2001: Saint on Canadian TV
The Saint is currently on in Canada on the DejaView channel, daily at 6:00pm Pacific Time, for the black and white Roger Moore episodes. The color shows are on Mystery daily at 9:00am, with repeats at 5:00pm and 1:00am.

Return of the Saint is on weekends at 1:00pm, with repeats at 9:00pm on Mystery.

Both Deja View and Mystery are new digital channels, and are free of charge until early January 2002.
September 21, 2001: Saint Mobile Ringtones
http://www.ringtones4all.com/menu/tv_s.htm has some cellular phone ringtones featuring the Saint theme. There are two different ones listed, and they come in many different formats, including MIDI, Nokring, and Ericsson.
August 30, 2001: Ogilvy's Slight Hangover
A Slight Hangover by Return of the Saint star, Ian Ogilvy, is now available from Amazon.com for $13.95.

Ian has two other books that are available from Amazon UK: The Polkerton Giant and Loose Chippings.
July 25, 2001: Roger Moore Tribute
On Tuesday 24 July 2001 the Variety Club of Great Britain held a Tribute lunch for Roger Moore, CBE at the Dorchester, Park Lane, London. It was a great success. Speakers were Michael Winner, Stefanie Powers, Michael Caine, Bryan Forbes and Shirley Eaton. Shirley Eaton was in the very first episode of The Saint (The Talented Husband).

Other guests who attended included Joan Collins, Robert Powell, Peter Bowles, Clive James, Rita Tushingham, Sara Miles and George Segal.

Roger was very friendly, posed for photographs and signed lots of autographs.
July 6, 2001: Roger Moore's Autobiography Stolen
Former Saint, Roger Moore has been working diligently on penning his autobiography. He had completed about 20,000 words of a first draft for the forth-coming book, when his home computer -- which had all of the text on it -- was stolen.

Apparently, Roger had no other back-ups and is so completely disheartened that he has given up on the idea of a book altogether -- an idea that his friend Michael Caine had convinced him would be much sought after by the publishing world.

We hope that Roger Moore finds his spirits rejunvenated by a short break, and starts again on this important work. There is much interest in his life, especially in his early work on The Saint -- there would be quite a lot of wonderful stories from that period of his life!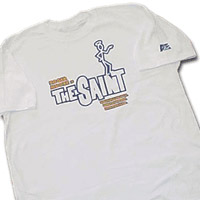 June 28, 2001: A&E Videos are Shipping; Get Your Saint T-Shirt!
The new Saint DVD and VHS sets are shipping from A&E, and are of very high quality. These sets are a must-have for serious and casual fans of the Saint alike.

The sets are re-mastered, uncut, original episodes from the acclaimed TV series, and are presented in order as originally broadcast in color on NBC.

Buy any two DVD or VHS sets from A&E and get a free T-shirt.
May 7, 2001: Order Videos Today!
Amazon.com has the new Saint DVD's and VHS tapes on their site. Order them today using the following links and get up to 25% off the suggested retail price:

DVD:

VHS:
May 5, 2001: New Video Releases from A&E
A&E has posted information and ordering pages on their site for their upcoming Saint releases on DVD and VHS.

He's one of the most popular of all fictional heroes--Simon Templar, the daredevil SAINT immortalized forever by the legendary Roger Moore in one of the most beloved cult television series of all time. A modern-day Robin Hood, THE SAINT out swindles the swindlers for the good of the little guy. He's handsome, charming, suave and sophisticated, cool in a crisis and hot between the sheets.

THE SAINT's explosive blend of thrilling action, daring adventure and dashing style captivated TV audiences on both sides of the Atlantic, and this collector's set includes the second six episodes (on two DVDs) from the 1966-7 season, the first to be filmed in color. Digitally re-mastered, presented uncut and in their original broadcast order, this collection is what fans have long been waiting for.

The Saint #1 DVD Set, Part Number AAE-70228, $39.95
Includes great bonus features (along with twice as many shows as the VHS sets!). The episodes included are:

The Queen's Ransom
Interlude in Venice
The Russian Prisoner
The Reluctant Revolution
The Helpful Pirate
The Convenient Monster

The Saint #2 DVD Set, Part Number AAE-70231, $39.95
Includes great bonus features (along with twice as many shows as the VHS sets!). The episodes included are:

The Angel's Eye
The Man Who Liked Lions
The Better Mousetrap
Little Girl Lost
Paper Chase
Locate and Destroy

DVD Features: Original Broadcast Trailers; Photo Gallery; The History Of The Saint; Interactive Menus; Scene Selection

The Saint #1 VHS Set, Part Number AAE-18088, $29.95
The episodes included are:

The Queen's Ransom
Interlude in Venice
The Russian Prisoner




The Saint #2 VHS Set, Part Number AAE-18092, $29.95
The episodes included are:

The Reluctant Revolution
The Helpful Pirate
The Convenient Monster
May 2, 2001: American DVD News
DVDFile reports that on June 26th, A&E will release the first two long-awaited sets of the classic Roger Moore television series, The Saint, on DVD. Each two-disc set, The Saint Set 1 and The Saint Set 2, features two volumes apiece, each with three episodes, or six total per set. Each episode is presented in full frame and English 2.0 mono, and features TV spots for each episode, a still gallery and a Roger Moore biography. Retail pricing is $39.95 for each set, and A&E expects to release more sets in the future...
January 18, 2001: Rebuilt Volvo Lottery
There are posters of The Saint and his Volvo all over Sweden. There is this big lottery on TV (channel 4) called "BingoLotto" where you can win a lot of money every Saturday. This week, you can win a Volvo P1800! The posters with drawn pictures of Roger Moore on them are about The Saint wanting his car back.

Volvo donated a fully restored and renovated white P1800 to UNICEF, who teamed up with BingoLotto to raise money. So now people who who buy tickets for the lottery are allowed to call during the show and make a guess on the registration number. The one who gives the correct number wins the car.

And no, the correct number is not ST-1.

Mr Roger Moore, who is an UNICEF ambassador, joined the show last saturday when the car was introduced (though no one was able to find out the correct plate number in the first show). There was a obvious tie in to the Saint - they showed the stick man and played Saint-music during the show.

This was not what the newspapers wrote about the following day, though. Instead they had a story on Mr. Moore's accident on his way to the TV studio.

Roger Moore was picked up by a driver at Gothenburg Airport (in a Volvo S80). On their way to the studio another car drove on red in an intersecytion and hit the S80 in the side, just in the rear part of the rear door, and made the S80 spin around.

Fortunatly Mr Moore was belted and the SIPS system, including infalatable curtain, worked perfekt. Afterwards Moore claimed that he had some pain in his ribs but no bad injuries. He was offered to see a doctor, but just asked for a painreliever. He was able to do the show and according to viewers he seemed to feel perfectly fine.

After the accident Mr. Moore said to the newspapers, "Thank God it was a Volvo..."
January 16, 2001: The Saint at the World Sports Awards
The second annual World Sports Awards, hosted by Roger Moore, was held today in London at the Royal Albert Hall. Presenters and participants included Muhammad Ali, Jean-Claude Van Damme, Buzz Aldrin, Prince Albert of Monaco, Nadia Comaneci, Evelyn Ashford, and Kareem Abdul-Jabbar.
January 10, 2001: Archerd on Saint Roger
By Army Archerd, Variety Senior Columnist
Source: Reuters/Variety, January 10, 2001
Wednesday January 10 1:16 AM ET - HOLLYWOOD (Variety) - "I LOVE AUDREY HEPBURN -- but she turned my life around," Roger Moore admitted to me, saying he'd turned down a rum commercial. He followed the late Audrey Hepburn as goodwill ambassador (which pays $1 a year) for UNICEF. He also says the responsibility of that position has caused him to turn off any script with violence: "I will not make a film that would be dangerous for children to see." When I reminded him of the violent films in which he appeared in the past, he corrected by saying his roles were always "to stop violence." (He will next be seen in "The Enemy" with Tom Conti.) Recently he has been to Ghana on behalf of UNICEF and has trips skedded to Slovenia, Indonesia, India, etc., in the new year. On Saturday, he wings to Volvo HQ in Goteborg for the auction of a rebuilt P1800 Volvo like the ones he drove in "The Saint" series -- complete with ST-1 plates. Proceeds go to UNICEF. "

Copyright © 2001, Variety Inc.
News and Rumors Archives
If you want more Saint news, there was lots of news in 2010, 2009, 2008, 2007, 2006, 2005, 2004, 2003, 2002, 2001, 2000, 1999, 1998, late 1997, early 1997, 1996, and 1995. As always, be sure to check The Saint's News and Rumors Blog on a regular basis.