Early 1997's Saint and Charteris News
Please e-mail any current news and rumors about The Saint to:


April 30, 1997: Box Office Update
In the 24 days that "The Saint" has been out in the United States, it has grossed over $48.2 million, proving that audiences don't necessarily agree with reviewers. The average audience rating has been a B+, while reviewers have been less enthusiastic. "The Saint" opened with a very strong $16 million weekend, which was the second largest opening weekend in April history. The second weekend brought in $11.2 million, the third did $7.2 million, and this past weekend kept things going with $5 million. "The Saint" is currently playing on 2,500 screens nationwide.
April 25, 1997: FAQ- Where to buy a Saint Pin
I have been getting many requests asking about the availability of a Saint pin (probably because Emma gives the Saint a very nice one at the end of the film). Paramount has contracted a manufacturer to product a small pin, that retails for US$5.00. The pin is in stock, and available from the Paramount Studio Store.

Paramount's Studio Store is probably not going to be producing a more expensive version. Made from pewter, it would be slightly larger, and feature a gold-plated halo. This proposed pin would retail for $30, and as the minimum manufacturing lot is 144, Paramount doesn't think it is viable. If you would pay $30 for such a pin, let them know by faxing Paramount at (213) 862-1941. You can also write to them at 5555 Melrose Avenue, Hollywood, CA 90038-3197. Mention that you read about it on www.saint.org!

The current list of Paramount merchandise is:

T-Shirts, various sizes, $12.00; Black design with halo'ed lightning bolt and small Saint logo.
Hats, $11.00; Black baseball hat with a stick figure in a circle on the front, and the words, "The Saint" on the back.
Coffee Mugs, $6.00; Black mug with stick figure on one side, lightning bolt on the other.
Book, $5.00; The Pocket Books novelization of "The Saint" by Burl Barer.
Pins, $5.00; A small lapel/tie pin with the Saint logo.

Paramount's studio store is located at 5555 Melrose Avenue, Hollywood, CA 90038-3197. You can reach them by phone at (800) 699-1085 or (213) 956-3036. Fax is available at (213) 862-1941. The International phone number for mail orders is (213) 956-4385.
April 25, 1997: Simon & Schuster's Saint Page
Simon & Schuster, the parent company of Pocket Books, has a nice web page for THE SAINT novelization by Burl Barer. It includes a picture of the book, and a brief review. A larger text excerpt is also available, as is a place for readers to review the book.

The Saint novelization is the number two book on Ingram's top 50 list of movie-related titles, following Howard Stern's "Private Parts" at number one. You can order "The Saint" from Amazon.com today.
April 25, 1997: Comics Buyer's Guide
The Comics Buyer's Guide #1223 April 25th, 1997 has an excellent and quite thorough four-column feature entitled, THE SAINT GOES MARCHING ON, which tells the history of the Saint in comics. Dr. Burl Barer only caught one minor error, but it has post John Spranger info that was new to him, plus a rare illustration of the Saint as drawn by Edd Ashe, Jr. for Silver Streak comics -- the Saint using a wristwatch radio several years before Dick Tracy in a story written by (say the credits) Leslie Charteris himself.
April 22, 1997: Box Office News
In the 17 days that "The Saint" has been out in the United States, it has raked in $42 million, showing once again that reviewers and audiences don't always see eye to eye. "The Saint" opened with a very nice $16 million weekend, which was the second largest opening weekend in April history. The second weekend brought in $11.2 million, and this past weekend did $7.2 million.

In International waters, "The Saint" opened in Australia as the number one film. The $1.1 million weekend was due in part to Director Phillip Noyce's promotion tour around his homeland. Meanwhile in Great Britain, the film did better at $1.3 million (although second place to a huge second weekend of "The Empire Strikes Back").

Third Weekend Report:

'Anaconda', $12 million, 2,458 screens, $32.7 million total, 2 weeks.
'Liar Liar', $10.1 million, 2,909 screens, $133.5 million total, 5 weeks.
'Murder at 1600', $7.9 million, 2,152 screens, 1 week.
'The Saint', $7.2 million, 2,500 screens, $41.2 million total, 3 weeks.
'Grosse Pointe Blank', $4.7 million, 1,236 screens, $13.6 million total, 2 weeks.
'The Devil's Own', $2.4 million, 2,004 screens, $39.1 million total, 4 weeks.
'McHale's Navy', $2.12 million, 1,859 screens, 1 week.
'That Old Feeling', $2.09 million, 1,583 screens, $13.2 million total, 3 weeks.
'Eight Heads in a Duffel Bag', $2.02 million, 1,553 screens, 1 week.
'Chasing Amy', $1.6 million, 519 screens, $2.1 million total, 3 weeks.
April 18, 1997: Orbital's Saint Debuts at #3
On the 13th, Orbital's hip new remix of "The Saint" theme music debuted on the British Top 40 charts at number three. Apparently the British dance duo don't think much of the film itself, which came out in England on Friday. Brothers Paul and Phil Hartnoll reportedly said that they thought The Saint was British, and therefore didn't understand the choice of Val Kilmer, an American, as the sophisticated Simon Templar.
April 18, 1997 The Saint Takes a Dare
THE SAINT premier in Hollywood raised $105,000 for D.A.R.E. American International, and supermarket tycoon Ron Burkle matched that by kicking in another $105,000! After the film, Phillip Noyce led the party caravan to the House of Blues where the Sneaker Pimps took to the stage. Everyone partied until way past two in the AM! The Saint always was a charitable sort...
April 16, 1997: British Saint Novelization Release
THE SAINT novelization was released in the UK on April 14th, with the movie having its England premier on the 18th. The book is being promoted via on-screen advertising in the theatres, and by a special Saint-based contest in the Guardian. THE SAINT novel by Burl Barer will be among the prizes awarded in the contest. Order "The Saint" from Amazon.com today.
April 16, 1997: The Saint Lives Dangerously--With Volvo
Source: The Hollywood Reporter / Motor Trend Magazine
April 11-13 1997, Weekend issue
"THE SAINT" LIVES DANGEROUSLY--WITH VOLVO

A Volvo might seem like an unlikely choice for the central character's car in an action-adventure film, but "The Saint," and his Volvo C70 coupe, are a special case. Paramount's big-screen spinoff of the sixties' TV hit should prove to be a great opportunity for Volvo to enervize its conservative, family-oriented image. Meanwhile, Paramount enjoys the benefit of Volvo's promotional help, including TV spots featuring movie clips and a dealer-level promotion with local theaters.

The car also serves as a bit of instant character development for leading man, Val Kilmer. As the dynamic globetrotting thief, Simon Templar, Kilmer runs counter to the image of a typical Volvo driver Likewise, the sexy Volvo C70 coupe he drives in the film conveys not a bit of the typical Volvo conservatism.

Although the original Simon Templar, Roger Moore, drove a sporty Volvo P1800 coupe during the long-running TV series, the team behind the big-screen "Saint" had no intention of using another Volvo. None of the sedans or wagons in Volvo's product line received even passing consideration.

Bob Austin, Director of Marketing Communications for Volvo Cars of North America, had a different idea, however. After catching wind of "The Saint" project in the trades during 1995, Austin arranged a meeting with the film's director, Phillip Noyce, and a few other principles. Austin pitched the idea of putting Simon Templar in a Volvo C70 coupe, a highly secret new model then under development by Volvo in Sweden. But with no pictures of the car to back up Austin's pitch, the response from Noycc was understandably cool.

Austin, undeterred, pried top-secret photos of a C70 prototype out of Volvo's head office and set up another meeting with Noyce. After viewing the C70's beautiful lines, Noyce knew he had found his leading man's new car.

"The Saint" is a perfect placement for Volvo, a firm whose cars are so widely associated with affluent baby boomers that they're normally used in films almost as cliches. Volvo's challenge is to broaden a family-oriented image so entrenched in the consumer psyche that at times it has become limiting. Dynamic Simon Templar's dangerous side is the antithesis of that safe-and-sane image and should help Volvo nurture the beginnings of a more exciting corporate persona. This image shift will be key to a successful introduction of the production C70 coupe at Volvo dealers this fall.

Although the automaker rarely gets much recognitiom for it, the stylish new coupe is merely the latest in a long series of high performance passenger cars from Volvo. The "Drive Safely" company builds fire-smoking sport sedans and even 150-plus mph station wagons. The C70 will share much of its technology with those 850-Series cars, which, incidentally, recently underwent a name change and are now referred to as the S70 (sedan) and V70 (wagon). The front drive C70 ("C" as in Coupe) will feature a 240-horsepower turbocharged five-cylinder engine and all of Volvo's best safety technology. A convertible version will follow the coupe to market.

Simon Templar will do his part to shatter staid perceptions of Volvo as he negotiates his red C70 through a web of intrigue, complete with a car chase and inevitable romantic tension with co-star Elisabeth Shue. And through it all, not a single "Baby on Board" sign will be anywhere to be seen.
April 13, 1997: Saint Score
The classical score to the new Saint film is coming out on CD. The album should be out by May 20th, if not earlier. This is all I know on this subject, so please send me any other information you run across.
April 11, 1997: The Saint Competition
Paramount Pictures Inc. and United International Pictures have combined forces with five companies who produce Simon Templar's favorite products to offer you the unique chance to win one of four heavenly prizes worth over US$170,000.

The Saint Competition is something every Saint fan should enter. Prizes include a Saintly Volvo C70 Coupe, a Nokia 9000 Communicator with $50,000 in free air time, a Bulgari Platinum "Rattrapante" chronograph, a trip sponsored by Verbatim, and a wardrobe of top Canali men's fashion clothing.

Please note the residents of the United States are not premitted to enter this promotion. The restrictions are that you must be over 18 years old (other than Taiwan where you must be over 20 years old), and that you are a resident in one of the following countries: Argentina, Australia, Austria, Belgium, Brazil, Denmark, Finland, Germany, Hong Kong, India, Ireland, Italy, Japan, Malaysia, New Zealand, Norway, Portugal, Singapore, South Africa, Spain, Sweden, Switzerland, Taiwan, Thailand, United Kingdom.
April 11, 1997: The Saint's Mailing List
For those of you who don't already know, there is a Saint mailing list called "The Epistle", which is sent in digest form at irregular intervals. To subscribe to The Epistle, send an e-mail to listserver@ogham.org with the following in the body of the text:

subscribe TheEpistle your name
end
April 9, 1997: Saint Sales Rocket
THE SAINT, Burl Barer's novelization of the film's screenplay, is one of the hottest new paperbacks in America with rumored sales rocketing towards 100,000. No official figures, but inside sources say THE SAINT is a hit! It has also just been released in the UK, with German, Japanese, Chinese, and other translations to follow. Order "The Saint" from Amazon.com today.
April 9, 1997: Web Coverage of "The Saint"
I'm still updating this list as I get the URL's. Please send URL's!

April 1997, Premiere Magazine: Saint Elsewhere
April 1997, Salon Magazine: Saint Misbehavin'
April 1997, Film.com: Sean P. Means' review
April 1997, The Movie Connection: Review of 'The Saint' (3.5 out of 4)
April 1997, CBS News' Up to the Minute: Dennis Cunningham's review
April 1997, Spicket's House of Movie Mortar: Alex Teich's review (4 out of 10)
April 1997, TV Guide: The World's Greatest Sinner (2.5 out of 5)
April 1997, Rough Cut: Review of 'The Saint' (4.5 out of 7.5)
April 1997, Boxoffice Magazine: Susan Lambert's review (2.5 out of 5)
April 1997, Scott Renshaw's MoviePage: Review of 'The Saint' (4 out of 10)
April 1997, Mr. Cranky Rates The Movies: 'The Saint' (respond in forum)
April 1997, Movieolla: 'The Saint' review (3 out of 4)
April 1997, The Washington Post: 'The Saint' page
April 1997, Nebbadoon Syndicate: Things can't get much worse than this
April 1997, Movie Ram-blings: Ram Samudrala's review
April 1997, Knoxville News-Sentinel: Betsy Pickle's review
April 13th, The Sunday Times: The agent who lost his cool
April 11th, The Sydney Morning Herald: Holy sainthood, Batman
April 11th, Entertainment Weekly: Owen Gleiberman's review
April 9th, Jam! Showbiz: Director calls The Saint a romance
April 8th, Newsday: Kilmer Innocent of Sins of 'The Saint' (2 out of 4)
April 8th, Jam! Showbiz: Kilmer behaved like a Saint
April 7th, Entertainment Today: Michael Tunison's review
April 7th, CNN: 'The Saint' full of history -- in both story and setting
April 7th, CNN: 'The Saint' is variation on old theme for Kilmer
April 7th, CNN: Disguises don't hide dullness of 'The Saint'
April 7th, Time Magazine: A Saint Goes Marching On
April 6th, New York Post: Thelma Adams' review (2.5 out of 4)
April 6th, MovieWEB: 'The Saint' (lots of pictures)
April 6th, CyberCritic: 'The Saint' (lots of pictures)
April 5th, MSNBC: 'Saint' may prove better resurrected
April 4th, The Detroit News: Val Kilmer shines in a 'Saint' script that's not so divine (2 out of 4)
April 4th, Chicago Tribune: 'Saint' Kilmer (2.5 out of 4)
April 4th, Chicago Tribune: Gene Siskel's review of 'The Saint' (2 out of 4)
April 4th, Chicago Sun-Times: Roger Ebert's review of 'The Saint' (2 out of 4)
April 4th, San Francisco Chronicle: Catch Kilmer If You Can (3 out of 4)
April 4th, San Francisco Examiner: 'Saint' needs redemption
April 4th, The Boston Phoenix: The Saint
April 4th, USA Today: A Multitude of Sins Sinks 'The Saint' (2 out of 4)
April 4th, The Philadelphia Daily News: At Least He's Having Fun
April 4th, The Davis Enterprise: This ain't "The Saint" (2.5 out of 5)
April 4th, The Washington Post: 'Saint':Halo Effect
April 4th, The Washington Post: 'The Saint': Is Nothing Sacred?
April 4th, The Boston Globe: 'Saint' martyrs its star and tortures plot
April 4th, Mr. Showbiz: Clear and Present Doodoo (15 out of 100)
April 4th, The Toronto Sun (via Jam!): The Saint a martyr to cliches (2 out of 5)
April 4th, The Edmonton Sun (via Jam!): Kilmer's Saint marches in (4 out of 5)
April 4th, The Philadelphia Inquirer: A 'Saint' that's an unholy mess
April 4th, E! Online: Saint or Sinner?
April 3rd, E! Online: Backtalk on 'Saint or Sinner' (reader's forum)
April 3rd, The Philadelphia Inquirer: Val Kilmer is a 'Saint' of various identities
April 3rd, Associated Press (via Jam!): The Saint complex but uninvolving
April 3rd, The Movie Emporium: Christopher Null's review (3.5 out of 5)
April 3rd, PR Newswire: Val Kilmer and Elisabeth Shue Star in 'The Saint'
April 3rd, The Los Angeles Times: Entering the Sainthood.
April 3rd, USA Today: Following a mystery man of many mediums
April 3rd, USA Today: 'Saint': Working under a wholly different guise
April 2nd, The Philadelphia Daily News: Val Kilmer is an actor with plenty of character
April 2nd, Jam! Showbiz: The Bad Boys Kick Back
April 1, Internet Movie Database: Steve Rhodes' review (1 out of 4)
March 1997, Boxoffice Magazine: 'Saint' Phillip
March 31st, Variety: 'The Saint' Gets no Redemption On Big Screen
March 26th, ReelViews: James Berardinelli's review (6.5 out of 10)

For more reviews, see The Val Kilmer Newsletter's Saint review page.
See also Telerama's list of reviews.
April 7, 1997: Saint Make Millions
The box office reports for the first weekend are in, and "The Saint" made an impressive $16.1 million. "The Saint" opened on 2,307 screens, averaging $6,979 per venue.

It was beat out in overall gross by "Liar Liar", which played on 2,881 screens--574 more than "The Saint". But "The Saint" was number one per screen by a large margin.

Variety reports that Director Phillip Noyce gives credit to three factors for the good numbers. The first is the timing of the release, the second is accurate advertising, and the third is Val Kilmer's active promotion of the film. Mr. Noyce was also reported as saying that "The romance element within an escapist adventure film makes it sort of a woman's action picture," thereby giving the picture a broader audience.
April 7, 1997: Saint Volvo
MSNBC has an interesting article entitled, Is 'The Saint' a safe bet for Volvo?, explaining the tie-in between "The Saint" and his Volvo. The article features some nice graphics, a few sound clips, and a video clip of Volvo's latest TV commercial.
April 7, 1997: American Movie Classics declares April 10 "All Saints Day"
AMC Press Release:
Three back-to-back adventures of "The Saint"

WOODBURY, N.Y., April 7, 1997--Before the halo fell on Val Kilmer in the just-released Paramount film The Saint, Leslie Charteris' sophisticated and debonair detective, Simon Templar, was the subject of a series of films by RKO from 1938 to 1942. American Movie Classics airs three of them, Thursday, April 10.

In The Saint in Palm Springs (1941), featuring suave George Sanders in the role, murder follows the Saint as he journeys to the desert to deliver a collection of rare stamps to an heir. The film also features Wendy Barrie, who appeared in three Saint movies. It airs at 10:15pm, ET.

Sanders has a dual role in The Saint's Double Trouble (1940), as Simon Templar and that of a look-alike jewel thief who's smuggled diamonds in a mummy from Cairo to Philadelphia. Simon's adversary is played by Bela Lugosi. The film airs at 11:30pm, ET.

Stage actor Hugh Sinclair picked up the role of the Saint in The Saint's Vacation (1941), airing at 12:40am, ET. The script was co-written by Leslie Charteris himself. In this Saint adventure, Simon embarks on a search for a music box in Switzerland containing secret codes.

Leslie Charteris' character, Simon Templar, The Saint, first appeared in the story "Meet the Tiger," published in 1928. The Saint came to the movies in 1938 via the RKO series. A new generation was introduced to the sophisticated gentleman thief in the 1960s, when Roger Moore starred in a highly successful British television series. Val Kilmer and Elisabeth Shue star in the latest adaptation. The Saint, a Paramount Pictures release which premiered April 4.

American Movie Classics is a 24-hour network devoted to the Golden Age of Hollywood. With one of the finest, most comprehensive libraries of classic films from the 1930s through the 1970s and a diverse blend of original programming, the service brings to life the sophistication and style of a revolutionary era in American film. All motion pictures are presented as they were originally intended to be seen: uncut, uninterrupted and without colorization. AMC is available in 63 million homes.

CONTACT:
Jennifer Geisser
Dina White
516/396-4350
or
Lynn Feldman Weiss
Katrina Sutton
310/453-4493

April 6, 1997: Star Seeker's Pick of the Week
This site (www.saint.org) has been chosen as Star Seeker's "Pick of the Week" at http://www.starseeker.com/. In addition, www.saint.org is a regular feature in both their movie and television sections. They also have a list of past picks available for you to browse.
April 4, 1997: Val Kilmer and Elisabeth Shue Star in "The Saint"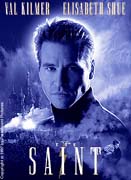 Paramount Pictures Press Release
Film Opens Nationwide on April 4

HOLLYWOOD, Calif., April 3 -- "The Saint" opens nationwide on Friday, April 4 in 2,307 theatres in the United States and Canada. Starring Val Kilmer and Elisabeth Shue, "The Saint" is directed by Phillip Noyce from a screenplay by Jonathan Hensleigh and Wesley Strick and a story by Jonathan Hensleigh. Also starring in the action-adventure are Rade Serbedzija and Valery Nikolaev. David Brown, Robert Evans, William J. MacDonald and Mace Neufeld are the producers of the David Brown and Robert Evans production, which is a Paramount Pictures presentation in association with Rysher Entertainment. Paramount Pictures is part of the entertainment operations of Viacom Inc.

Simon Templar (Val Kilmer), is rich, sophisticated and almost supernaturally skilled at stealing even the most closely guarded of treasures. He is also cold and cynical, until his path crosses that of Emma Russell (Elisabeth Shue), a young scientist whose life is in terrible danger. Emma has discovered the key to Russian billionaire Ivan Tretiak's (Rade Serbedzija) overwhelming ambition -- to crown himself the first Czar of the new Russian Empire -- and he will do anything to neutralize the danger that she represents.

Stirred by long-dormant feelings, Templar desperately fights to protect Emma while struggling to master the one identity he cannot assume with ease: himself.

"The Saint" is MPAA rated "PG-13."
The soundtrack from "The Saint" is available on Virgin Records.

CONTACT: Cece Horwitch, Executive Director, National Publicity
Paramount Pictures, (213) 956-5588
April 4, 1997: GIST Pick of the Day

The editorial staff of the Webby Award-winning online magazine GIST has chosen this site (www.saint.org) as a featured "Web Pick" for Friday, April 4, 1997. They're at www.gist.com, and don't miss their capsule review of this site for some "dazzling" comments.
April 4, 1997: Rough Cut Interview
Rough Cut's web site features two new interviews with the stars of "The Saint": Val Kilmer and Elisabeth Shue. A transcript of Rough Cut's March 31st interview with Duran Duran, with information about their work on the soundtrack, is also available.
April 3, 1997: Following a mystery man of many mediums
By Andy Seiler
Source: USA Today, April 3, 1997
The Saint, British author Leslie Charteris' mysterious gentleman criminal, has led many lives. The one depicted in the big budget The Saint, opening Friday with Val Kilmer and Elisabeth Shue in the lead roles, is merely the latest and most ambitious.

The most famous version is the 1960s British TV series in which Roger Moore played Simon "The Saint" Templar.

"Somewhere in the world, right now, someone is watching the Roger Moore Saint on television," says devoted fan Burl Barer, the Las Vegas, Nevada-based author of The Saint: A Complete History in Print, Radio, Film and Television. "Those programs are running in syndication in various languages all over the world. That logo, the little character with a halo over his head, is an international icon."

But Moore's Saint, which premiered in England in 1962 and continued until 1969, is just the tip of the halo. Charteris wrote or co-wrote almost 100 Saint books in English or French from 1929-1983 (he died in 1993), at least 18 of which are still in print. He also wrote a Saint newspaper comic strip for 12 years, and there have been Saint comic books and a Saint Mystery Magazine.

The character once described as "the devil with dames, and the headache of cops and crooks alike" has been played by Louis Hayward, George Sanders and Hugh Sinclair (in the movies), Vincent Price, Tom Conway and Barry Sullivan (on radio), and Ian Ogilvy and Simon Dutton (on TV), among others.

PolyGram Video has re-released eight Roger Moore TV episodes to coincide with the new film version, while Turner Home Video has put out the '30s and '40s Saint movies. Five of those films will be shown on the Turner Classic Movies cable channel this month. The Saint also has two Internet Web sites: http://www.saint.org and, for the movie only, http://www.thesaint.com.

What has kept the character popular for so long?

"This is an incredibly cool guy who never has to wait in postal lines," says mystery and fantasy novelist Rosemary Edgehill, a lifelong fan. "He never has to go crazy when he's not getting his way, because Simon always gets his way."

"All of the Saint's motives are impeccably ethical, although his behavior is often decidedly illegal," adds Barer, who also wrote the Pocket Books paperback novelization of the latest film. "It's because of that sense of adventure and that sense of freedom that the Saint has always been as popular with women as he is with men."

In the new film, Simon Templar is a very '90s guy, an expert Internet hacker and post-Cold War espionage renegade.

Some fans lament that the hero has been revamped so drastically that he's no longer British, and they aren't pleased that the film spends its entire running time showing how Templar became the Saint.

"I think they're doing themselves a disservice," says Edgehill, who lives in Poughkeepsie, N.Y. "It's sort of like asking how the Mission: Impossible team became the Mission: Impossible team. Nobody cares."

But Edgehill's sister, Jennara Wenk, who is the honorary membership secretary in the USA for the Saint Club, a fan group based in London, disagrees. She points out that Charteris himself updated the character through the years and that Templar gradually became less and less identifiably British as the decades passed, as did Charteris himself, who spent many years in California and Florida.

"I would love to see it done as an exquisite period mystery series on Masterpiece Theatre," Wenk says. "But if you're going to do it as the first entry in a continuing movie franchise a la Batman, you need to compete with the other blockbuster products in the marketplace."

© Copyright 1997 USA TODAY, a division of Gannett Co. Inc.
April 2, 1997: Saint Reviews and Press
The Val Kilmer Newsletter is doing a great job of keeping up to date on all the press on The Saint. Check out their site for all the lastest reviews and press stories about "The Saint".
March 31, 1997: World Premiere
The World Premiere for "The Saint" is set for Tuesday, April 1st in Washington D.C., with a charity reception beforehand. Elisabeth Shue and Val Kilmer will be there, and a $25 donation to Sasha Bruce Youthwork Inc. pays your way to see the film. The showing will be at the Cineplex Odeon Avalon, and a further $150 to $250 will get you into the British Embassy for the party that follows.

The Los Angeles Saint premiere is on April 3rd at the Academy Theatre in Los Angeles, with a party following at the House of Blues. Celeberties abound, including Val Kilmer and Elisabeth Shue, and several of Virgin's recording artists will be on hand for the bash to keep things lively.
March 31, 1997: Simon Dutton Reruns
The satellite/cable channel GRANADA PLUS in the United Kingdom is rerunning the Simon Dutton films. The shows will be on weekly, commencing Saturday, April 5th at 3:00pm with THE BRAZILIAN CONNECTION. THE BLUE DULAC will show on April 12th, and there is a break on the 19th. The show then returns on the 26th with THE SOFTWARE MURDERS.
March 30, 1997: Making The Rounds Update
The press tour for "The Saint" has started, and Val Kilmer and Elisabeth Shue will be busy this next week making the rounds on various talk shows.

March 25th, "The Oprah Winfrey Show" had both Val Kilmer and Elisabeth Shue on as guests. I'm sorry I had the wrong date listed here a few days ago, but I understand Val was very funny and even did some of his characters from the film. The studio audience got to see the film before the appearance, and they were very excited about it. The Val Kilmer newsletter is working on a page with pictures and text from the show.
March 25th, VH1 had a special on "The Saint". More details coming soon to http://www.webcom.com/vkn/vh1325.html
March 30th, 4:00pm (Eastern Time), E! will repeat their "Val Kilmer Uncut" special.
March 31st, ABC's "Regis and Kathie Lee" show will have Elisabeth Shue on at 9:00am.
March 31st, CNN's "Larry King Live" has Val Kilmer slated for their 9:00pm show.
April 2nd, VH1's "Saint" Special is scheduled to be rerun at 11:00pm (Eastern Time).
April 4th, 11:35pm, NBC's "The Tonight Show", starring Jay Leno will feature Elisabeth Shue.
April 4th, 7:00am, ABC's "Good Morning America" is scheduled to have Val Kilmer.
April 4th, 7:00am, CBS's "This Morning" has Val Kilmer slated for an appearance.
April 4th, 11:35pm, NBC's "The Tonight Show", starring Jay Leno will have Val Kilmer as a guest.
March 28, 1997: Saint Soundtrack

Music from the motion picture soundtrack, "The Saint", is now available at record stores in the United States. The soundtrack should be available overseas soon--depending on the movie's release date. The CD in the United States is 7243 8 42959 2 9 from Virgin Records America, Inc., and the included tracks are as follows:

The Saint Theme / Orbital
6 Underground (Nellee Hooper Edit) / Sneaker Pimps
Oil 1 / Moby
Atom Bomb / Fluke
Roses Fade (Mojo Mix) / Luscious Jackson
Setting Sun (Instrumental) / The Chemical Brothers
Pearl's Girl / Underworld
Out Of My Mind / Duran Duran
Da Funk / Daft Punk
Dead Man Walking / David Bowie
Polaroid Millenium / Superior
A Dream Within A Dream / Dreadzone
In The Absence Of Sun / Duncan Shiek
Before Today / Everything But The Girl

Paramount's web site has lots of information about The Saint Soundtrack from Virgin Records. The site also features sound clips from Duran Duran, Orbital, David Bowie, Daft Punk, Sneaker Pimps, and many others.

You can order the soundtrack from Amazon.com on CD for $14.95. That page also features five sound clips from the album.
March 28, 1997: Help Collect Reviews
Ian Dickerson, Honorary Secretary of The Saint Club, wants your help. He's attempting to compile the ultimate file of all the previews, reviews and PR associated with the forthcoming movie, THE SAINT. If you come across anything in print--review, preview, interview with the man Kilmer--or can make notes of things you see or hear on TV or radio *please* send it to Ian c/o The Saint Club, PO Box 258, Romsey, Hants. SO51 6WY England.
March 28, 1997: San Francisco Bay Area Preview
The "New Rock" radio station, KOME (98.5 FM) in San Jose is giving away tickets to preview of "The Saint" this week. The showing will be at 7:30pm on Thursday, April 3rd at the Century Capitol 16. KOME will be giving away tickets right up to the day of the showing, so guess what... listen to win! Since I live in the area, you might even see me there (anyone got an extra ticket?).

Many other radio stations around the country are doing previews as well, but I don't have a full list.
March 28, 1997: Turner's Saint Marathon and Videos
On April 5th, TCM is going to broadcast: The Saint in London, The Saint in New York, The Saint Meets the Tiger, The Saint Strikes Back, and The Saint Takes Over back-to-back-to-back-to-back-to-back. This grand Saint marathon starts at 1:00pm (Eastern Time) and lasts until 8:00pm.

1:00pm THE SAINT IN NEW YORK (1938); The Saint goes undercover to get the goods on New York's mob kingpins. S: Louis Hayward, Kay Sutton, Jonathan Hale. D: Ben Holmes. BW 71m.
2:20pm THE SAINT STRIKES BACK (1939); The Saint helps a young beauty take vengeance on the mobsters who ruined her father. S: George Sanders, Wendy Barrie, Barry Fitzgerald. D: John Farrow. BW 67m.
3:40pm THE SAINT IN LONDON (1939); The Saint's investigation of a counterfeiting ring uncovers a nest of spies. S: George Sanders, David Burns, Sally Gray. D: John Paddy Carstairs. BW 72m.
5:00pm THE SAINT TAKES OVER (1940); Reformed jewel thief Simon Templar tries to help a police inspector whose been framed on bribery charges. S: George Sanders, Jonathan Hale, Wendy Barrie. D: Jack Hively. BW 69m.
6:30pm THE SAINT MEETS THE TIGER (1943); The Saint infiltrates a small English village run by smugglers. S: Hugh Sinclair, Jan Gillie, Clifford Evans. D: Paul Stein. BW 70m.

Also, Turner Home Entertainment/Warner Home Video has released their four volume set of RKO Saint movies. The video tape collection has been in stores since March 18th, and each volume contains a Saint double feature.

Volume 1: The Saint in New York / The Saint Strikes Back
Volume 2: The Saint in London / The Saint's Double Trouble
Volume 3: The Saint Takes Over / The Saint's Vacation
Volume 4: The Saint in Palm Springs / The Saint Meets the Tiger
March 27, 1997: Duran Duran Interview
The online movie 'zine Rough Cut is hosting a chat with Duran Duran on March 31st at 3:30pm Eastern Time. The chat will last 30 minutes, and the band will be discussing their involvement on the soundtrack for "The Saint". Check out Rough Cut at http://www.roughcut.com/, or go directly to Rough Cut's chat room stats at http://www.roughcut.com/backlot/do_lunch/
March 27, 1997: Saint Preview Tickets
The Los Angeles (Burbank) Top 40 radio station KIIS (102.7 FM) is giving away free tickets to an exclusive screening of "The Saint". The special showing will be in a rented theatre on Wednesday, April 2nd. KIIS is giving away pairs of tickets every hour, so listen to win! "The Saint" opens wide on April 4th.
March 27, 1997: Paramount Saint Merchandise
I was at Paramount on Monday, and had the chance to wander by the studio store. The store has Saint t-shirts, hats, mugs, the novelization, and hope to have Saint pins coming soon. You can order any of these items directly from the store via credit card.

T-Shirts, various sizes, $12.00; Black design with halo'ed lightning bolt and small Saint logo.
Hats, $11.00; Black baseball hat with a stick figure in a circle on the front, and the words, "The Saint" on the back.
Mugs, $15.00; Not in stock, but should be in within two weeks.
Book, $5.00; The Pocket Books novelization of "The Saint" by Burl Barer.
Pins, $?.??; A small lapel/tie pin with the Saint logo. Not yet produced, but coming soon.

Paramount's studio store is located at 5555 Melrose Avenue, Hollywood, CA 90038-3197. You can reach them by phone at (800) 699-1085 or (213) 956-3036. Fax is available at (213) 862-1941.
March 26, 1997: Dan's Saint Review
So guess what, I've seen the film! I know that you are all waiting to see it for yourself, and I just want to let you know that you won't be disappointed. I saw a special screening arranged by Volvo Car Corporation at Paramount on Monday the 24th, and it is a really good film. Val Kilmer is very engaging in his many disguises, and he is also funny--it was great to see that Paramount didn't leave out that important aspect of the Saint's personality. Elisabeth Shue is wonderful, and her portrayal of bright and bubbly naivete is quite compelling. There is good chemistry between Kilmer and Shue, and I was really suprised at how good some of the scenes were. There is a moment when they are talking in a small restaurant that is magical to say the least.

Now, in order to really enjoy this film it is very important to set your expectations correctly. I went in with an open mind, and was very pleased with the film (it didn't hurt that it featured the Saint, a Volvo, a Macintosh PowerBook, and Elisabeth Shue--all items on my list of favorite things. I guess they'll throw See's candies, Tintin, and Lego into the next one). When you see the film I suggest you remember two key points. First, this is not a super-action James Bond film in which the hero has to rescue the world from destruction. This film is more of a romantic comedy with a lot of action and drama intertwined in the plot. This works well, and makes "The Saint" a great film for dating couples. There is romance, seduction, and Val's chest for the ladies, and a good plot, Elisabeth Shue, and lots of action for the rest of us.

Second, it is an origin film. For most of the film Val Kilmer isn't the Saint, so don't expect, or hope, to see Val Kilmer disguised as Roger Moore, being the perfect gentleman thief. Val's Templar doesn't become the Saint until the end of the film; however, when he does it is exactly the same Saint that we have all grown to know and love over the years.

That said, don't get overly concerned or start worrying. There is quite enough of the Saint, gadgets, action, explosions, and all that other stuff to keep you quite content. I think that long-time Saint fans will enjoy seeing how the Saint became the Saint, and that this movie will be a lot of fun to see. But I also know that they will be looking forward with great anticipation to a really "Saintly" sequel. After a taste of the "real" Saint at the end of this film, I know that I am certainly eager to see him in an entire film!
March 26, 1997: Saint Apple
Simon Templar uses an Apple PowerBook 5300ce in the new Saint movie starring Val Kilmer. Working very closely with Paramount, Apple Computer arranged to have The Saint use the very latest in Macintosh OS technology. The Saint's Macintosh PowerBook runs what looks like a modified version of the grey space-age interface from Apple's "Copland" project. This new technology will soon be available to the rest of us when Mac OS 8.0 is released in July. The Saint's choice of an Apple Macintosh is further proof of his love for the finer things in life.
March 26, 1997: Saint Nokia
An Australian journalist reports that Nokia staff members at press events are wearing little Saint stick-pins on their jackets.

When quizzed about this they said that in "The Saint", Simon Templar uses a Nokia 9000 GSM cellular phone. The 9000 flips open to reveal an inbuilt PC with a little screen and keyboard on which the user can sends faxes, e-mail and even browse the Web. Jump to http://www.nokia.com/ for more details on the 9000).

Apparently another feature of the 9000 is that the ring tone can be programmed by the user; the ring tone of The Saint's 9000 is, of course, the opening bars of The Saint theme! Of course, the Volvo C70 used in the film has a similar feature for its horn, but it won't a standard option.
March 24, 1997: Display your Saint Memorabilia
Seth Hutson is doing a promotion for the upcoming movie "The Saint" and would like to decorate the lobby of his theater with Saint memorabilia. Anyone interested in displaying their collection of Saint goodies can reach him with the following contact information:

Seth W Hutson III, Manager
Mann Theaters
180 S. Promenade Way Suite R
Westlake Village, CA 91361
E-mail:shutson349@AOL.com
Phone: (805)-379-8966 (Thursday nights are best), or Fax: (805)-3794511

March 23, 1997: Latest Saint FAQ
The latest version of The Saint FAQ is now available for your approval. To maintain version control, please do not modify it; instead, please e-mail your suggestions and corrections.
March 21, 1997: Saint Trailers
Television trailers for "The Saint" have been hitting the airwaves hard. Starting this past Monday you can't switch channels without seeing Val Kilmer and Elisabeth Shue.

For those of you who have managed to miss the trailer, Paramount has put them up on their web site at http://www.thesaint.com. You can download the trailer in two different versions: the low-res QuickTime version is 7.9 MB's, and the high-res QuickTime version is 13.5 MB's.
March 17, 1997: Teal's Review of the C70
Well, it seems our friend Chief Inspector Teal had a little adventure with Simon Templar and his new Volvo C70. The details are spelled out in his report on the incident.
March 17, 1997: Latest French Reprints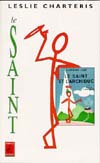 The latest reprint of "les aventures du Saint" from Belgian publisher LEFRANCQ EN POCHE has hit the European bookshops. LE SAINT ET L'ARCHIDUC (Getaway) follows on from their reprints of LE SAINT ET LE DERNIER HEROS, LE SAINT ET L'HEROIQUE AVENTURE, LE SAINT ET LES ANGES DES TENEBRES. More titles are expected from Lefrancq and French publisher J'ai Lu in the near future.
March 15, 1997: Volvo's Saintly C70 Coupe
Volvo's web site has some information and pictures of their new C70 turbo coupe which will be used in "The Saint". You can also jump directly to their section on The Saint.
March 14, 1997: Moore Saint Movies

PolyGram Video Press Release:
Suave, sophisticated, athletic and daring, with an unlimited supply of beautiful women, THE SAINT was just about the coolest thing to hit British television screens during the 1960s. The casual but deadly Simon Templar was played to perfection by a handsome Roger Moore who fast came to epitomise Leslie Charteris's action-loving hero, and who could turn any situation to his advantage by raising one perfectly-groomed eyebrow.

Quickly reaching cult status, THE SAINT's stick-man and halo logo and trademark theme tune signalled that moment each week when thousands of male and female devotees thrilled to Templar's hair-raising adventures that habitually led him to save a damsel in distress.

Today the whole concept of THE SAINT will be brought to a new generation of fans with the April 1997 release of Paramount Pictures' new movie, starring Val Kilmer as Simon Templar. Comparisons between Roger Moore's classic incarnation and that of his 90s counterpart will be inevitable.

PolyGram Video is therefore delighted to announce the 14th April release of two original feature-length SAINT films, "The Fiction Makers" and "Vendetta for the Saint". Starring the unsurpassable Roger Moore and previously unavailable on video for many years, both films are highly collectible and will each retail at an irresistible £9.99 (British Pounds).
March 13, 1997: Two Endings
We have a report that there will actually be two slightly different endings to the new Saint film. The two versions will be the same plot-wise (so don't worry about missing out on some strange twist), but the American version will not include an additional climactic fight sequence. The extra footage will have The Saint taking on the villanous father/son team of Tretiak and Ilya. It is unknown which countries will see the slightly longer version, but diehard Saint fans in the United States will certainly have to travel abroad to see the grand finale.

Paramount is said to prefer the tighter American version, probably due to the fact that another fight makes the film have a false ending--just when you thought it was over, there is another fight (increasing the risk that movie-goers will think that it is ending too many times). The big action finale is a nice pay-off, but only if you are interested in wrapping up the plot by killing off the bad guys. The

It is also unclear if there will be an additional version with the tank battle at Tretiak's mansion. The scene features Simon Templar fighting Tretiak's son, Ilya, on top of a flaming chandelier. Their fight to the death is accented by tank shells bombarbing the beautiful mansion along the Moscow river.
March 12, 1997: Saint Novelization Released

Burl Barer's novelization of the upcoming movie, "The Saint", is now out in your local bookstores. You can also order The Saint over the web from Amazon.com for the reduced price of US$5.39.
March 11, 1997: Saint FAQ
The first version of The Saint FAQ is now available for your approval. To maintain version control, please do not modify it; instead, please e-mail your suggestions and corrections.
March 11, 1997: The Saint Doesn't Suck
Well, RoughCut has changed their tune on "The Saint&quot. In an article a few weeks ago, they suggested that "The Saint" might be in position to be the biggest bomb of the summer. That report was based on initial audience response to the first cut of the film. Since then, Paramount has reshot and re-edited the film, and RoughCut now reports that "The Saint" is going to be bigger than "Mission: Impossible".
March 11, 1997: Russian Rumors
Exciting news for Saint fans in Russia. This is a first for a Hollywood film; a version of The Saint produced exclusively for Russian audiences with the Russian actors playing themselves in Russian and the voice of Simon Templar being played by a Russian actor.

Saint press junkets are this coming weekend, so bet on seeing a lot of print and T.V coverage in the weeks to come.
March 10, 1997: Volvo C70 Review
Woman Motorist has a great review of their test drive of the new Volvo C70 turbo coupe. Volvo is currently doing a Worldwide Press Launch in Santa Barbara, California, and they have rows of the new coupes at their disposal. Watch for more reviews in the coming weeks, and for Val Kilmer driving one in the new Saint movie.
March 10, 1997: Terry Nation's Passing
Terry Nation, scriptwriter and creator of a certain range of gliding pepperpots that terrified the hell out of primary school students, died Sunday, March 9th.

Amongst his lengthy and varied CV were a number of episodes of the Roger Moore series of THE SAINT: The Revolution Racket, Jeannine, Lida, Sibao, The Contract, The Inescapable Word, The Sign of the Claw, The Crime of the Century, The Man Who Could Not Die, Invitation to Danger, The Desperate Diplomat, The Time to Die, and Where the Money Is.
March 9, 1997: Loose Chippings by Ian Ogilvy

Ian Ogilvy's "irresistibly funny novel of village life," Loose Chippings, is available directly from the publisher. Phone 01235 400400 (England) with your credit card ready. The price is £5.99 plus £2.00 for overseas postage and packing (ISBN 0 7472 5233 5). For more information about The Return of The Saint star's new book, see the news and rumors from 1996.
March 8, 1997: Be The Saint
Paramount's Be The Saint adventure is now available on their web site at www.thesaint.com.
March 5, 1997: Saint Screensaver
Paramount's web site (www.thesaint.com) now has a Saint Screensaver available for downloading in both Macintosh and Windows 95 format.
March 4, 1997: Molding the many faces of 'The Saint'
By Jeannie Williams
Source: USA Today, March 4, 1997
The 15 characters Val Kilmer plays as Simon Templar in The Saint live "on the other side of the fence, like card sharks, confidence men, espionage (experts). Much of their success and failure is determined by how well they can manipulate people," Kilmer told us in a phone chat.

He is one smart actor who also likes things to go his way. He hopes he has created a psychologically complex character for this major movie, due April 4, that could kick off a franchise like Batman (which he more or less walked away from).

The Saint came to life in novels by Leslie Charteris and was played by George Sanders in several late '30s-early '40s movies and by Roger Moore in the 1960s British TV series.

It was Kilmer who insisted on creating Templar's disguises in detail and making romance important.

Templar comes from a Hong Kong orphanage and takes on many identities, all named for saints. Renowned for immersing himself in his Jim Morrison role in The Doors, Kilmer seems delighted by this challenge.

With director Phillip Noyce's approval, he took pains to create the Templar character who woos Elisabeth Shue, as an American physicist at Oxford University from whom he is hired to steal a cold-fusion formula.

Templar thinks he's meeting "a frumpy old bookworm," but when he sees it's lovely Shue, out goes the "balding guy with bad teeth" and in comes a new character, "a traveler/poet/artist from South Africa," where Kilmer has spent a lot of time.

"He's a passionate and sensitive man, this wanderer," Kilmer says. He gets caught up in a relationship with the physicist, "and you forget Simon's acting (another character)." It's "particularly awful" when she realizes he's not who she thought he was.

© Copyright 1997 USA TODAY, a division of Gannett Co. Inc.
March 4, 1997: Saint Videos in the UK
Polygram Video in the UK will be releasing THE SAINT AND THE FICTION MAKERS and VENDETTA FOR THE SAINT on April 14th, price £9.99.

Rumoured promotional opportunities include the chance to win one of 25 copies signed by Roger Moore.
March 4, 1997: Mensa Members Screening
Leslie Charteris was a member of MENSA (the society for folks with IQ's slightly higher than The Saint Club's current bank balance), and in honor of the new Saint movie, the British branch of MENSA is holding a special screening of the film.

"The Saint" will be shown at Warner West End on Wednesday, April 16th at 7:30pm, in the Leicester Square section of London. The price is £6.00 (British Pounds), and only members of MENSA along with their friends and family can attend. Phone 01902 772771 for more details and before sending any money. Make cheques payable to "Mensa Events" and send them to Mensa House, St John's Square, Wolverhampton, WV2 4AH. England.
March 3, 1997: The Saint on French Canadian TV
"The Saint," starring Roger Moore, is now showing (dubbed into French) in Quebec, weekdays at 11:00am on Channel D.
March 3, 1997: Saint Val News
The Val Kilmer Newsletter has found some new articles on "The Saint&quot and Val Kilmer. They have an article from the February 1997 issue Tribute (a Canadian movie magazine) a webized version of the Val Kilmer cover story (complete with pictures) from the April 1997 issue of Premiere magazine, and a note that Val is scheduled to represent "The Saint" at Nato ShoWest in Las Vegas the week of March 3, 1997. Watch for ShoWest news coverage on TNT and Hollywood Online.
March 2, 1997: The Saint on British TV
BBC 2 will begin rebroadcasting "The Saint," starring Roger Moore, on Saturday, March 8th at 3:35pm. The first episode will be The Russian Prisoner. This is good news for British Saints, but American fans are still waiting for news of reruns on their side of the Atlantic.
March 1, 1997: Updated Statistics for www.saint.org
The Saint's web site at http://www.saint.org/ has been up and running for over a year, and the log file contains over 815,000 entries. Using Analog 2.0 for Macintosh, I have compiled and posted a complete statistical usage report for www.saint.org through February 28th, 1997. Traffic is booming!
February 27, 1997: More International Premiere Dates
The Australian Premiere with be on Tuesday, April 8th, at the Graeter Union Cinema in George Street, Sydney. It will be followed by a party at the Franklin Mint Museum.

The Dutch premiere will be in Amsterdam on Monday, April 21st, and a big party will be held in conjunction with the festivities surrounding the Rembrandts (the Dutch equivalent to the Oscars).

No news on a date or venue for the World premiere, which is slated for Washington, D.C.
February 27, 1997: Saint Club E-mail
The Saint Club, which is in the closing stages of a large-scale revamp, now has its own e-mail address: club@saint.org, and an American Honorary secretary, Jennara Wenk. Please use that e-mail address for official Saint Club business only. More details on The Saint Club page.
February 26, 1997: Rocking Roger!
Roger Moore is making a cameo in the video for Orbital's re-orchestration of Edwin Astley's original Saint Theme from the TV show. As if that's not cool enough, Mr. Moore did the saintly act of donating his fee for the video shoot to the United Nations Children's Fund.

The Saint buzz is building in the Los Angeles area. A few local radio stations (KCRW 89.9 and KROQ 106.7) have mentioned the upcoming film with emphasis on it's especially hip soundtrack. KCRW has started playing the Orbital rendition of the "Saint Theme", which is pretty good sounding; the song is also included in several upcoming 30 second TV spots.
February 25, 1997: Saint Roger Cameo
You will be happy to know that at the very end of "The Saint" there is a voiceover delivered by a newscaster who describes to the audience a final heist that Templar's managed to pull off at the expense of the film's villian, Ivan Tretiak. That newscaster's voice is none other than Saint Roger Moore himself!
February 25, 1997: Saint Release Schedule
International Release Dates for "The Saint":

April 4, 1997: United States
April 17, 1997: Australia, Singapore
April 18, 1997: Israel, United Kingdom
April 24, 1997: Netherlands
April 25, 1997: Denmark, Poland, Portugal, Spain
April 26, 1997: Korea
May 1, 1997: Austria, Germany
May 2, 1997: Yugoslavia
May 8, 1997: Hungary, Slovenia
May 9, 1997: Colombia, Italy, Switzerland, Thailand
May 15, 1997: Chile
May 16, 1997: Finland, Panama, Sweden
May 21, 1997: Malaysia, Venezuela
May 23, 1997: Mexico, Turkey
May 29, 1997: Dominican Republic, Hong Kong, New Zealand
May 30, 1997: Trinidad, Brazil
June 4, 1997: Uruguay
June 5, 1997: Argentina
June 7, 1997: Taiwan
June 18, 1997: France, Belgium, South Africa
June 20, 1997: Norway, Switzerland (French)
June 25, 1997: Philippines
June 26, 1997: Czech/Slovakia
June 28, 1997: Peru
June (no date), 1997: Croatia, Ecuador, Indonesia, Japan
September (no date), 1997: Romania
October 10, 1997: Greece
(no date), 1997: Bulgaria

February 24, 1997: Saint Novelization Printed
Burl Barer reports that the movie novelization is hot off the presses, and is now being shipped to warehouses. He should be getting a few copies early this week for his own personal consumption. He also says that the cover art of THE SAINT novelization will not be the "bright" one-sheet poster featuring Kilmer's head and a Russian backdrop. It seems that Paramount neglected to provide the new artwork in time. Hence, the novelization's first printing will be the "dark" Kilmer photo with the white light behind his head (exactly like the teaser poster). If the novelization goes into a second printing, it will have the new artwork.

The official release date is March 11th, and you can order The Saint from Amazon.com for $5.39.
February 19, 1997: Entertainment Weekly on The Saint
The February 21st/28th issue of Entertainment Weekly has a special Spring Movie Preview feature on The Saint. The issue is on sale at newstands now.
February 17, 1997: New Saint TV Book
Paul Simper is now in the final stages of completing 'The Saint on TV: A 90s look at a 60s phenomenon' for Andre Deutsch. The book includes fresh interviews with stars like Shirley Eaton, Annette Andre and Sylvia Syms looking back on those days as well as in-depth interviews with Robert S.Baker, John Kruse, Roy Ward Baker, Freddie Francis, Anthony Arnell, and (hopefully) Roger Moore himself on the whole process of producing, directing, writing and casting such a series.

There is also a chapter on the new movie with Burl Barer talking his novelisation of the new Saint movie; an episode-by-episode guide to the TV show; a feature on Lord Grade; press clippings from the Sixties; focus on the about-to-be-re-released feature length videos 'The Fiction-Makers' and 'Vendetta for the Saint'; a Saint quiz; a collection of EXCLUSIVE Saint artwork by all those from the series who have contributed to the book, and finally a chapter on fans of The Saint TV series. This 96-page book should be out on April 18th, with a price of £7.99 (British Pounds).

With regards to the last chapter on Saint Fans, Paul is looking for your three favourite episodes. Please e-mail him at kbb17@dial.pipex.com with your picks, along with a complete reason for why you like each particular one. His deadline for getting copy is February 24th, so if you are interested in being in the book you'd better write soon. The format should be something like:

The Saint Plays with Fire
An extraordinary episode which deserved a theatrical release. John Kruse has done a grand job of updating the Charteris original so that the Neo-Nazi threat of Joseph Furst seems just as relevant in the 1960s. There's a great courtroom scene where Roger Moore really gets his teeth into the part as he accuses the Coroner of a whitewash. Justine Lord is maddeningly perfect as the self-centred gold-digger Lady Valerie. There's a surprisingly raw escape scene when our TV Saint actually has his hands badly burnt and the whole affair is shot with bold use of composition by Robert S Baker. A genuine thriller.
February 16, 1997: Saint Radio Shows Available
You may obtain the following Saint Radio Shows from WIRELESS Audio Collection, PO Box 64454, St. Paul, MN 55164-0454, USA. Phone: (800) 733-3369 or (612) 659-4312.

Volume 1 and Volume 2 are also available via the web at Adventures in Cassettes.

The Saint Starring Vincent Price, Volume 1 (#42891, US$24.95)
Includes: "The Connelly Silver Mine" 07/31/49, "The Old Man's Car" 08/14/49, "The Color Blind Killer" 09/18/49, "Prove I Did It" 11/07/49, "The Fake Amnesia Killer" 11/13/49, "The Prize Fighter" 06/11/50, "The Music Murder" 06/18/50, "Search For A Killer" 07/02/50, "Contract On The Saint" 07/09/50, "Death Of The Saint" 07/16/50, "Fighter's Contract" 07/23/50, "Author of Murder" 07/30/50.

The Saint Starring Vincent Price, Volume 2 (#42891, US$24.95)
Includes: "Harry Morgan's Revenge" 11/12/50, "Murder Plot in Prison" 11/19/50, "The Terrible Tin-Type" 11/26/50, "The Young Detective" 12/03/50, "Monkey Business" 12/10/50, "The Champ's Kid" 12/17/50, "Christmas Jewels" 12/24/50, "The Alive Dead Husband" 01/07/51, "The Aging Actor" 01/14/51, "The Tuba Player" 01/21/51, "Under The Carnival" 02/04/51, "The Missing Bridegroom" 02/11/51.
February 14, 1997: Happy "Saint Val"entine's Day
To all you halo-hearted Saint fans out there waiting to see Val Kilmer in the new Saint movie: happy Saint Valentine's day!
February 12, 1997: Saint Merchandise, etc...
With the news that the Saint movie will open up on April 4th in the United States, we have heard that the British premiere has been pencilled in--so it is still liable to change--for April 18th at The Odeon, Leicester Square, London. So, countrywide release in the UK would probably be a week or two after that.

Paramount's marketing is reportedly gearing up for some cool new Saint merchandise. Some of the items that you will be seeing soon are a computer game, Saint watches, sunglasses, a pen that records a few seconds of sound, and a stick pin of the famous Saint logo. There will also be T-shirts and baseball caps; the shirts are black with the haloed lightning bolt (like the teaser poster), and the hats will have the old-style stick figure with "The Saint" written on the back in an Eastern block type-face.
February 11, 1997: Paramount Pictures Releases 'The Saint' On April 4, 1997
Paramount's Press Release:
Paramount Pictures' "The Saint," starring Val Kilmer and Elisabeth Shue, will be released on Friday, April 4, 1997. Previously scheduled to open on March 14, "The Saint" is being moved to its new date in strategic response to the marketplace, which has become much more competitive with the phenomenal success of "Star Wars" and the anticipated successes of the film's two sequels. By moving to April, "The Saint" will now be positioned to capture the broadest possible share of the market.
February 11, 1997: 'Jedi' Return Pushes 'Saint' March To April
By Andrew Hindes
Source: Reuters/Variety, February 11, 1997
HOLLYWOOD (Variety) - With Star Wars astonishing industry veterans once again by finishing its second weekend at $24.3 million -- $1.5 million ahead of Fox's Sunday estimate -- Hollywood executives are buzzing about the potential of the film's two sequels.

One studio already has changed the opening date of a major spring release, at least in part to avoid the Special Edition juggernaut.

Paramount Monday postponed the release of its Val Kilmer starrer The Saint from March 14 to April 4. The final installment of the trilogy, Return of the Jedi, bows March 7, as does Paramount's Howard Stern movie "Private Parts."

"One has to react to the phenomenon of Star Wars," says Wayne Lewellen, Paramount distribution president. "It's a combination of that and 'Private Parts.'" Paramount is upbeat about the radio humorist's romantic comedy, which has been well received by test audiences and distributors.

But they note that the effect of Star Wars is not all bad. "This one has expanded the market tremendously. It's getting people into the habit of going to the movies," said Paramount's Lewellen.

Copyright © 1997 Reuters Limited. All rights reserved.
February 8, 1997: PROPOSAL: alt.fan.the-saint
Please visit the alt.config newsgroup and comment on my proposal for an alt.fan.the-saint newsgroup.
February 8, 1997: The Saint Mailing List
Ian Dickerson, the Honorary Secretary of The Saint Club, has arranged for a Saint mailing list called "The Epistle" via a listserver in England. The Epistle is a mailing list for anybody interested in the work of Simon Templar and the adventures of Leslie Charteris.

It is a forum for Saint fans to air their views and exchange ideas, and to discuss Saint projects old and new. Discussion of the books by Leslie Charteris, the movies, the TV series, the comic strips, the radio shows--anything related to the Saint or Leslie Charteris is acceptable. This is not a place for discussing religion!

To subscribe to The Epistle, send an e-mail to listserver@ogham.org with the following in the body of the text:

subscribe TheEpistle your name
end

Don't worry about the subject line--the listserver will ignore it.
February 7, 1997: Paramount's Saint site is fully operational
The opening of Paramount's new Saint movie starring Val Kilmer won't be until March 14th, but in the meantime you can visit their official web site at http://www.thesaint.com/ to get a taste of what the film is all about. The Saint site is now open to the public, and features production notes, cast biographies and pictures, background on the filmmakers, visual clips from the movie, soundtrack highlights, other goodies, and plenty of Val Kilmer and Elisabeth Shue for everyone!

Some areas are still under construction, but look for a Saint Screensaver and a "Be The Saint" adventure coming soon.
February 7, 1997: The Saint on Australian TV
"The Saint in Australia," (known to the rest of us as the Simon Dutton episode, "Fear in Fun Park") is being screened Sunday, February 8th on Australia's national TV network, Channel 7. Get plenty of rest down under, for the showing time is 2:35 in the AM!
February 6, 1997: Saint Countdown
Planet Kilmer On-Line, the official web site of The Val Kilmer Mailing List, has a automatic countdown to The Saint's opening on March 14th. They've also posted some brief sound bites from The Saint in .WAV format, and are mirroring this Saint news page on a regular basis.
February 4, 1997: Saint Books for Sale
I have added some more stock to my books for sale shelves. Highlights include a complete set of the Saint baseball cards from the 1960's, some British Saint annuals, and a run of The Saint Mystery Library. I also just recently put together some nice early Avon editions, and some good matching sets.
February 4, 1997: Saint Reviews
'The Saint' was test-screened twice on Sunday night, February 2nd, at Paramount's Studio Theater. Audience rating scores went up by at least 10 points, with many others eagerly awaiting the opening on March 14th. With Graeme Revell's score taking shape as the emotional glue between the characters and the several Virgin recording artists' whose music appears in the film, 'The Saint' is a very hip film with an unexpected emotional core. The new ending works very well and there's a great cat-and-mouse between Templar and Teal (the Scotland Yard agent who's been chasing him for years) at the very end. The love story works great and the film still shows the transformation of a man turning from sinner to saint. For a film that hopes to be a launch pad for a franchise, this should do the trick. The final one-sheet poster looks very cool and the soon-to-be-launched web site (www.thesaint.com) is very involved (including production notes, several stills, music from Virgin records, and much more).
January 31, 1997: Order The Movie Novelization Today!
The Saint by Burl Barer, a 288 page mass market paperback from Pocket Books (ISBN: 0671009516) is ready to order from Amazon.com for $5.39, which is 10% off the list price of $5.99! The publication date is April 1,1997, and Amazon.com will ship it to you when it is released by the publisher.
January 29, 1997: Saint Music News
From CyberSleaze 01-28-97:
SPEAKING OF THE DURAN DURAN BOYS: The former British pop heartthrobs are themselves set to launch a comeback - all thanks to the upcoming VAL KILMER film THE SAINT. The HUNGRY LIKE THE WOLF stars have recorded the main theme song for the forthcoming VAL KILMER blockbuster. The group found time to record the track - called THEME FROM THE SAINT - last year, just before bass player JOHN TAYLOR left the group. It's the second time the lipstick boys have landed the theme tune to a major movie. In 1985 they scored a massive hit with VIEW TO A KILL from the JAMES BOND film of the same name.

From CyberSleaze 01-27-97:
British dance gurus THE ORBITAL are saying 'halo' to a big pay check thanks to Hollywood blockbuster THE SAINT. Movie moguls at Paramount asked the SATAN band to record a song for the soundtrack after a producer working on the VAL KILMER film heard the hip group on the radio. And Orbital's PAUL HARTNALL was only too pleased to oblige after being offered a lucrative five figure deal. Hartnall adds, "I think they will adapt the music and make it more in the same vain as THE MAN FROM U.N.C.L.E. It might be silly if they don't use it but we don't care now."
January 28, 1997: Saint Opening on Schedule
Paramount's upcoming movie, The Saint, will be released on March 14th as originally scheduled. There was some confusion when a fan saw a studio schedule with a release date of March 28th. That schedule was in error, and the latest schedule has been corrected. The erroneous report came amid rumors that the reshooting of the film's ending was slightly delayed when Elisabeth Shue's face was scratched by a dog, necessitating rest and extra makeup.
January 28, 1997: Saint Memorablia on Display
Lobby cards and posters from Saint films featuring Louis Hayward, George Sanders, Hugh Sinclair, Roger Moore and Val Kilmer are now on display at Genghis Cohen Restaurant in Hollywood, CA. (740 N. Fairfax Ave, 1/2 block north of Melrose Ave.) Although timed to take advantage of the forthcoming release of the new Saint film, this display is an independent effort not involved with Paramount, although the studio will be providing the two pre-release posters and the due to be released final poster for the film. All Saint fans are invited to drop by and view this extensive collection belonging to Genghis Cohen owner Allan Rinde, himself a longtime Saint fan.
January 27, 1997: Val Kilmer Interview in GQ
The February 1997 issue of GQ Magazine's British edition has a nice interview with Val Kilmer, including his thoughts on the upcoming Saint movie. There is a web version available at http://www.webcom.com/vkn/gq.html if you are interested.
January 25, 1997: Saint Preview on Entertainment Tonight
On Friday, January 24th, there was a preview of the new Saint movie on the TV show, Entertainment Tonight. The segment was about a minute long and featured the theme music playing in the background. The movie opens on March 14th.
January 22, 1997: PolyGram Video Collection
PolyGram Video is set to showcase the suave, debonair, sophisticated super-sleuth, Roger Moore, in a home video series from the original television show, THE SAINT. The series that made Roger Moore a household name and world renowned gentleman spy, THE SAINT will be available to consumers on February 25th in a four part collection priced at $14.95 each.

PolyGram Video has acquired exclusive rights to THE SAINT's first eight color episodes arranged in chronological order of its original air date on television. Each SAINT video begins with the original episodic trailer and features two 50 minute episodes. In addition the videos are specially numbered for collectability.

Volume One: (800 638 205-3)
The Russian Prisoner
The Man Who Loved Lions

Volume Two: (800 638 207-3)
Locate and Destroy
The Queen's Ransom

Volume Three: (800 638 209-3)
The Reluctant Revolution
The Helpful Pirate

Volume Four: (800 638 211-3)
The Angel's Eye
Interlude in Venice
January 21, 1997: The Saint on Italian TV
Rai Tre, the Italian third channel--which is available via EUTELSAT--is running Return of the Saint from 5am to 6am on Tuesday mornings. Just right for those of you who have to work nights...

Now the interesting thing is, they have a completely different title sequence!
January 16, 1997: Saint Logo Status
To the best of our knowledge, Paramount will not be incorporating the Saint Logo in their upcoming ad campaign. This is strange, as the haloed ideogram is the international icon of The Saint (and the lightning bolt with the halo is not much of a replacement). However, in the film, Emma (Shue) gives Templar a stickpin of hers which is a new version/design of the classic Saint logo. Templar puts it on his lapel towards the end of the film. It's a good, new design and it would have been nice to have seen it standing alone on a pre-release poster with 'March' (the release month) or something under it. Recent movie history shows that iconography is the best way to create curiosity. Perhaps the lightning bolt may be a primitive outline of the logo and that it will phase or morph into the stick figure over a series of posters, but this doesn't seem to be the case.

Both the trailers for theatrical and Superbowl release have been called quite good. The theatrical trailer is naturally longer and goes through several emotions--intruige, danger, love, betrayal, and destiny--actually giving you the chills at one point. The T.V. trailer is a short 30 second spot and goes for the quick 'action' sell, but it is reportedly quite entertaining as well.
January 15, 1996: Other Rumors
From CyberSleaze 01-15-97:
VAL KILMER has jetted into Britain to film a new ending to his $72 million blockbuster THE SAINT. The former BATMAN hearthrob and co-star ELISABETH SHUE are now at PINEWOOD STUDIOS shooting a "happy" finale. In the original plot, Shue's character died. But test audiences in America hated the ending, so worried producers took the gamble of spending another $3.2 million on a new climax. A film source says, "When the film was shown to a selected audience everybody thought Elisabeth's character should have survived. The director decided to shoot a different ending so Val and Elisabeth were called back. It has cost an absolute fortune but they think it's worth the risk. The film could've bombed otherwise." The reshoot was hampered when Shue, 32, was bitten on the face by a friend's dog just as she was preparing to fly to London. The source reveals, "She's had to have a pretty heavy make-up job to cover the wound on her face." Bummer.

Corona Productions also has many details and rumors about the Paramount film.
January 12, 1997: Saint Film Novelization Finished
Viacom Entertainment (Paramount) has approved the final revisions of Burl Barer's novelization of the new Saint film. The book is officially an April release, meaning it will be out in bookstores everywhere around the last week or so of March. The book cover will probably be black with the same haloed Val Kilmer as is currently on http://www.thesaint.com/.

On a somewhat related note, there are apparently new posters for The Saint featuring a haloed Val Kilmer. Expect some new promotional material soon, perhaps with the 'real' Saint logo this time!
January 6, 1997: Saint Film Update
The two million dollar reshoot of the Saint movie continues this week. Eight days of shooting were completed before Christmas, and another eight in Oxford, England, are scheduled to start today. The film is still slated for release on March 14th in the United States, and March 17th worldwide. It may sound like they are cutting it pretty close, but that's life in the movie business.

The new Saint music for the movie sounds like an Ace of Base version of the old television theme. I don't know the artist, so if anyone has any insight please e-mail me!
News and Rumors Archives
If you want more Saint news, there was lots of news in 2010, 2009, 2008, 2007, 2006, 2005, 2004, 2003, 2002, 2001, 2000, 1999, 1998, late 1997, early 1997, 1996, and 1995. As always, be sure to check The Saint's News and Rumors Blog on a regular basis.