2002's Saint and Charteris News
Please e-mail any current news and rumors about The Saint to:


December 2, 2002: Sainted Sleuth
Ian Ogilvy is starring in Sleuth in the West End of London. Ian plays the role of a sinister thriller writer made famous by Sir Laurence Olivier in the movie version.

For more information, visit the London Theatre website.
October 17, 2002: The Man Who Haunted Himself
Anchor Bay has released The Man Who Haunted Himself. The Man Who Haunted Himself was Roger Moore's last movie before taking over the role of James Bond, as will as the final film by legendary director Basil Dearden (The Mind Benders, Dead of Night). This creepy psychological thriller is now presented in a stunning new transfer from original British vault materials and includes Roger Moore's first-ever audio commentary (where Roger talks a bit about The Saint).
October 2, 2002: Smart Saints
Leslie Charteris and two of his co-authors, Fleming Lee and Peter Bloxsom, were members of Mensa, The High IQ Society. In their footsteps, two of the forces behind this website, Ian Dickerson and Dan Bodenheimer, are also Mensa members. At one time, there were enough Mensan Saint fans that SaintSIG (special interest group) was formed within the society.

From Leslie Charteris' Forward to "Send For The Saint" in 1977.


Whatever else may be said about the Saint stories which have been adapted from television scripts, it can at least be safely asserted that they are works of genius.

My authority for this statement is that all those which have been published hitherto were written up by Fleming Lee, who is a member of Mensa. And as everyone should know, membership in that highly elitist society is restricted to those who can prove an IQ in the top two percentile of the available statistics, which makes every Mensan officially a genius. On paper, at any rate.

Since the adaptations are also supervised and given their final vetting by myself, I am blushingly obliged to admit that I too am a Mensa member.

This volume introduces the first Saintly efforts of a new adapter, Peter Bloxsom. But to maintain a newly established tradition, I am glad to assure all readers that he too is a Mensan, whom I first met through our common membership.

So you have been warned. We may seem stupid to you, but we have certificates that say we aren't.

Visit Mensa's website today and see if you are another smart Saint!
October 1, 2002: A&E Mulls Black and White Saints
A&E is still trying to decide whether to release the black and white episodes on DVD. Please use their feedback forum to let them know that you'd love to see them released. Be sure to highlight "programing/viewer relations" and then scan down to "general" before typing in your promises to purchase everything they offer!
September 22, 2002: New Saint DVD from A&E
A&E has posted information and ordering pages on their site for their upcoming October 29th Saint release on DVD. Volume 7 of the Saint DVD collection includes the last seven color episodes, thus making the complete color series avaiable for Saint fans everywhere!

The Saint #7 DVD Set, Part Number AAE-70544, $39.95
The episodes included are:

Where The Money Is
Vendetta For The Saint (2 Parts)
The Ex-King of Diamonds
The Man Who Gambled With Liffe
Portrait of Brenda
The World Beater

DVD Features: Production Stills Gallery, Original Broadcast Trailers, Roger Moore Biography/Filmography, T he History of THE SAINT, Interactive Menus, and Scene Selection.
September 10, 2002: The 2003 Saint Calendar Now Available
The Saint: The Official 2003 Calendar Published by Slow Dazzle Worldwide Ltd. and with exclusive input from Ian Dickerson as well as access to the Carlton archives, this is a unique publication that every fan of the work of Simon Templar and the adventures of Leslie Charteris will want on their wall. Available from The Saint Club cheaper then you'll find it in the High Street (least if you're in the UK)!

UK: £8.99
Europe: £10.49
North America: $15.99
Rest of World: £11.49


Cheques payable (in US dollars or UK pounds) to THE SAINT CLUB and sent to The Saint Club (Merchandise), PO Box 258, Romsey, Hants. SO51 6WY England.
June 7, 2002: Saint Calendar 2003 Coming Soon
Coming soon from Slow Dazzle later this year is the Official 2003 Saint calendar. With exclusive input from Ian Dickerson as well as access to the Carlton archives this promises to be a unique publication that every fan of the work of Simon Templar and the adventures of Leslie Charteris will want on their wall.
May 19, 2002: Join The Saint's E-Mail List Today!
The Saint's e-mail list, The Epistle now has an online web-form for easy subscribing. Join today!
May 13, 2002: The Saint's Double
A fellow Saint fan came across this interesting article about the Saint's double. Some people know that Ken Norris was Roger Moore's double in the Bond films, and even played the character "General Toro", whom 007 tries to impersonate in Octopussy. It is not as well know that Mr. Norris position as Roger's double dates back to the days of "The Saint".

The most interesting thing in the article is that while the producers of The Saint have long publicized the fact that Roger did all his own stunts, the truth is that Ken Norris actually did some of them too! I guess it all depends on what your definition of "all" is...
April 24, 2002: Saint Music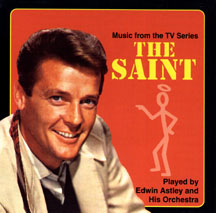 Amazon.com has a couple of different versions of music from The Saint available, including two soundtracks from the 1997 Saint movie, and a couple different albums from the 1960's Roger Moore series.

Saint Music on CD:

Recommended Related Items:
April 16, 2002: Two New Saint DVD's from A&E
A&E has posted information and ordering pages on their site for their upcoming April 30th Saint releases on DVD. You can order the DVD's today, for the April 30th release. These DVD's will not be available in retail stores until May 28th, so order them today!

Simon Templar is a man whose reputation precedes him. A man with a mysterious past and a glamorous present. With an unerring sense of right and wrong, and a willingness to do what it takes to see justice done. He is THE SAINT, and his adventures are now available on DVD for the first time.

Since his debut in Leslie Charteris' 1928 novel Meet the Tiger, The Saint has appeared in over 100 books, on radio, in movies and even in comic strips. But it was Roger Moore's portrayal of the debonair adventurer on TV that made THE SAINT a household name. Racing toward trouble in his trademark white Volvo, THE SAINT was always too close for the comfort of villains, and just beyond the reach of Scotland Yard's Chief Inspector Teal.

The Saint #5 DVD Set, Part Number AAE-70464, $39.95
The episodes included are:

The Gadic Collection
The Best Laid Schemes
Invitation to Danger
Legacy for The Saint
The Desperate Diplomat
The Organisation Man
The Double Take

The Saint #6 DVD Set, Part Number AAE-70467, $39.95
The episodes included are:

The Time to Die
The Master Plan
The House on Dragon's Rock
The Scales of Justice
The Fiction Makers (2 Parts)
The People Importers.

DVD bonus features include: Production Stills Gallery; Original Broadcast Trailers; Roger Moore Biography/Filmography; The History of THE SAINT; Interactive Menus; Scene Selection.
April 14, 2002: Roger Moore Attends Volvo's Birthday
Volvo celebrated it's 75th birthday on Sunday, April 14th. One of the party's notable attendees was Saint Roger Moore, who drove a Volvo 1800 sports coupe in the 1960's Saint television show.

The Ford Motor Company now owns Volvo, but Volvo still holds a special place in the hearts of the Swedes. The Swedish King, and 1500 other visitors attended the birthday party.

The first Volvo was driven out the Volvo factory on April 14, 1927. It was the Volvo OV4 also called Jakob.
March 28, 2002: French Fiction-Maker's DVD
PVB Editions in France is releasing a special two-DVD collector's edition of The Saint and The Fiction-Makers on April 26th. Screenshots and more information on Les Createurs De Fictions is available from their website.

If you have Apple's Quicktime installed, you can view the opening menu from the DVD.
March 27, 2002: Volvo 1800 Drives 2,000,000 Miles!
FIRST PERSON TO DRIVE TWO MILLION MILES IN SAME CAR

EXTENDS WORLD RECORD IN HIS 1966 VOLVO P1800

Long Island's Irv Gordon, Volvo's "Two Million Mile Man," turned his historic two million miles on March 27 during Volvo's 75th anniversary party at Times Square Studios.

March 27, 2002 is entered into the record books. The Long Island native and retired science teacher Irv Gordon reached a milestone no other individual has accomplished in the more than 100 years of the automobile: driving two million miles in the same vehicle.

To mark the occasion, Gordon drove his shiny red 1966 Volvo P1800 through the heart of New York City on Broadway, cruising down to 44th Street in Times Square, where he was the honored guest at Volvo Cars of North America's 75th anniversary party. The Swedish auto maker's celebration was held from 7 p.m. to 10 p.m. (EST) at Times Square Studios, home of ABC-TV's "Good Morning America."

"Of the 260 million vehicles on the road in the United States, only a handful have accumulated one million miles, and until now, none have made it to two million," said Dan Werbin, president and chief executive officer for Volvo Cars of North America. "We like to say that 'there are cars, and then there are Volvos,' but there is more involved here than the wisdom of our engineers in developing a car that could last so long and travel so far. Irv's meticulous care of his Volvo over the years has played a significant role.

"Irv's dedication to his P1800 reflects the loyalty Volvo owners have to their cars, and the longevity of his P1800 represents the reliability of the entire Volvo brand," Werbin added. "It's only fitting that Irv celebrate his amazing milestone the same day Volvo honors its 75th anniversary, and what better location than in the heart of New York City?"

Gordon bought his P1800 on June 30, 1966 at a neighborhood Volvo dealership for $4,150. "I was replacing a new car I had just purchased from another manufacturer that broke down on my drive home from the dealer," Gordon said. "I love driving, and I put 1,500 miles on the P1800 during the first 48 hours I owned it. I just loved the way it drove."

Gordon's long commute to work (a 125-mile daily round trip) and his passion for driving enabled him to log his first 250,000 miles in less than 10 years. "The car never gave me any problems -- didn't overheat, never failed to start. At about half a million miles, the car was driving better than ever, and that's when I was sure this is an extraordinary car."

In October 1987, Gordon celebrated his one-millionth mile by driving a loop around the Tavern on the Green in New York's Central Park. Following his retirement a few years later, he made driving his pastime, going to Cincinnati for coffee or to Denver for lunch. "I'd ask a woman out for a lunch date. When she agreed, I'd say, 'Fine, I'll pick you up at nine o'clock.' When she asked, 'Why so early?' I'd reply, 'Because we're having lunch in Montreal.'"

Gordon has driven to Mexico and Canada and has placed his car on a boat for excursions overseas. He drove in Holland, Denmark and Germany. While in Sweden, he drove to Volvo's global headquarters to see where his P1800 was born.

In 1998, The Guinness Book of World Records honored Gordon's Volvo P1800 as the vehicle with the "the highest certified mileage driven by the original owner in non-commercial service." Now, Gordon breaks his own world record every time he drives his celebrated car.

In the weeks leading up to Gordon's two-million milestone, he visited a variety of automobile shows, dealerships and car clubs throughout the nation. At Volvo's 75th anniversary party, he crossed over the two-million mile mark by driving onto Times Square Studio's street-level stage.

As for what he'll be doing on March 28? "I'll keep on driving," Gordon said, "but whether I drive three million miles is more up to me than it is the car. The car's parts may be able to take it, but I'm not so sure about my own."

Source: http://www.volvocars-pr.com/
March 19, 2002: New Saint Album
There is a new album of Saint music available from the Roger Moore television series. The Saint and Secret Agent contains songs from both The Saint and Secret Agent television shows.
March 15, 2002: Racism Just Ain't Saintly
The Southampton Saints Football Club in England have launched an anti-racism campaign using a certain logo (by permission!).

Here is the press release for it:

Saints pledge to tackle any form of racism in football

A campaign, underpinning a national drive to keep racism out of football, was officially launched today (Friday 15th March) by the Rt Hon John Denham, MP, at Southampton Football Club.

The 'Racism Just Ain't Saintly' project, a joint initiative between Southampton City Council, Southampton Football Club and Friends Provident was unveiled by the Home Office Minister at The Friends Provident St Mary's Stadium.

Saints stars Paul Williams and captain Jason Dodd were on hand to help kick-off the campaign, in what the Club and Council recognise as a very important measure in tackling the on-going fight to keep racism out of football.

Backed by Friends Provident - the Saints' club sponsor - the project seeks to draw together all relevant strands of the Saints community programme to create an inclusive culture to encourage participation in football in all its forms.

The initiative reflects the diverse nature of fans that follow the Saints at their stunning new £32 million Friends Provident St Mary's Stadium in the heart of a multi-ethnic community in St Mary's. Southampton Football Club is also developing extensive links amongst a wide audience in the community and has already set up football coaching and course programmes. The campaign will be presented to over 30,000 fans at The Friends Provident St Mary's Stadium on Saturday 16 March at half time when Saints take on Leicester City.

Rupert Lowe, Chairman of Southampton Football Club, said: "Southampton Football Club is firmly opposed to all forms of racism - whether this is at a match at the stadium or football in the community - and the launch of this campaign underlines our commitment to this cause.

"It's important that the 'Racism Just Ain't Saintly' project maintains momentum and is not simply viewed as a one off launch. Although we have very few racially motivated incidents, we recognise that it is an on-going priority to ensure it never appears in any form. We are looking to encourage volunteers to come forward to participate in whatever capacity - whether this is coaching or club run courses."

Councillor Paul Jenks, Cabinet Member for Housing & Community Regeneration, Southampton City Council, said: "Racism degrades all of us and it is important that the high profile organisations, like Southampton Football Club and the City Council, send out a clear message that it is not acceptable in our city. We are delighted to be able to stand shoulder-to-shoulder with the players, supporters and staff of the Saints, and all other decent people in Southampton, to oppose racism."

Keith Satchell, Group Chief Executive at Friends Provident, said: "'Racism Just Ain't Saintly' is an important initiative not only for football but for fostering harmony in the multi-cultural society in which we all live and work. This is an opportunity for all those who love this great game to set the standards for the community as a whole."

Southampton Football Club would like to express their gratitude to the Estate of Leslie Charteris for use of The Saint logo.
March 11, 2002: Enter The Saint
A new edition of Enter The Saint has just been released in England by Dales, a Magna Print affiliate of Ulverscroft Large Print Books. It is a large-print edition with some nice new cover artwork, and is available from Amazon.co.uk for £10.99.
February 18, 2002: The Persuaders on British DVD
The Persuaders, starring Roger Moore and Tony Curtis, are being release on Region 2 DVD in England. The Persuaders was somewhat of a spin-off of the Saint, as one of the last Saint episodes (The Ex-King of Diamonds) was the unofficial pilot in which the premise was audience tested. The Persuaders also featured such Saint notables as Roger Moore, some supporting cast members, many of the same writers, and the same director.
January 22, 2002: More A&E Video Sets Coming Soon
A&E Television Networks reports that "The Saint", sets 5 and 6, are scheduled for release on DVD in the summer.
News and Rumors Archives
If you want more Saint news, there was lots of news in 2010, 2009, 2008, 2007, 2006, 2005, 2004, 2003, 2002, 2001, 2000, 1999, 1998, late 1997, early 1997, 1996, and 1995. As always, be sure to check The Saint's News and Rumors Blog on a regular basis.