2003's Saint and Charteris News
Please e-mail any current news and rumors about The Saint to:


December 16, 2003: New ABC Saint?
The Futon Critic is reporting that ABC television in the US is considering a new TV version of "The Saint". This is another in a round of such rumors, and no details have been revealed in any of the cases. When something more concrete happens, you will hear it here.
November 26, 2003: Norwegian Radio Shows on CD Audiobook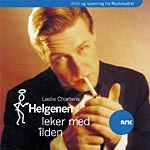 The Saint's adventures have always been popular in Norway and now Norwegian broadcaster NRK have released a CD audiobook of their latest production. Helgenen leker med ilden is based on the adaptation of "The Saint Plays with Fire" by Neville Teller that aired on BBC Radio 4 in 1995 with Paul Rhys in the lead role. This time the role of Simon falls to Norwegian actor Mads Ousdal and Patricia is played by Gjertrud Jynge. There were only a few minor changes to the original adaptation and the production values remain high.It makes interesting listening and is undoubtedly an interesting addition to anyone's Saint collection Just don't forget one thing...it is in Norwegian.

This CD audiobook is available from The Saint Club. E-mail club@saint.org for details.
November 25, 2003: The Persuaders DVD Set
The Persuaders! set 1 DVD

They're a pair of playboys with nothing in common but trouble... they are THE PERSUADERS!, operating in the name of justice, on the fringes of the law.

DVD Features:

13 episodes on four discs
Commentary on the pilot episode by Roger Moore, producer Robert S. Baker, and executive in charge of production Johnny Goodman
Roger Moore and Tony Curtis biographies
Photo gallery
Full-screen format
Number of discs: 4

Buy The Persuaders! DVD Set 1 from A&E
November 12, 2003: Australian DVD Set 1 Released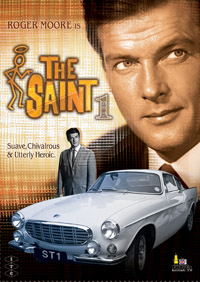 Umbrella Entertainment in Australia has released the first 24 black and white episodes of the Roger Moore Saint series. The price is AU$119.95 in Australia, and they do ship internationally. This six DVD set is region-free and is done in the original 4:3 aspect ratio.

DVD Features:

Exclusive Audio Commentary With Roger Moore
Audio Commentary With Members Of Production Crew
Original Itc Publicity Booklet Re-print Insert
Brand New Roger Moore Interview (tbc)
Production Notes
Cast & Crew Profiles
Extensive Image Galleries
Original Itc Pressbook (text Feature)
Isolated Music & Effects Tracks
The Saint On Film (text Feature)
Original Scripts & Memorablia
Rare Textless Material
Motion Menu
Scene Selction
Umbrella Propaganda

Quotes:

"Sit back for murder, mystery and glamour, and a cast of the best of British actors. You can't get much better." - Jan Vincent Ruszki: ULTIMATE DVD

"This was ITC's most enduringly popular series and perhaps the best standard example of the genre" - Michael Haslett: ULTIMATE DVD

Known as THE SAINT because of his initials S.T. and his unfailing tendency to help those in need, Simon Templars passion for adventure and a pretty face invariably lead him into a spine-tingling trail of danger and intrigue. He is a modern-day Robin Hood, a freelance instrument of justice, out-witting adversaries and flirting with life and ladies along the way. Set against numerous international and exotic backdrops, Templar adopts different guises for the big cause. His code of conduct, however, is unfailingly constant suave, chivalrous and utterly heroic.

THE SAINT, created by Leslie Charteris, is one of the most popular heroes in fictional history. Who better than Roger Moore, with his debonair good looks, to bring the character to life on the small screen, instantly recognisable as the most famous Saint of all.

Umbrella Entertainment presents the first rarely seen 24 episodes of THE SAINT, complete, uncut and digitally remastered for the first time.
October 9, 2003: Sir Roger Moore
Actor Roger Moore Receives Knighthood
By MICHAEL McDONOUGH, Associated Press Writer

LONDON - He's Sir Roger Moore (news) now but the actor, who received a knighthood from Queen Elizabeth II (news - web sites) on Thursday, says he doesn't mind if fans still refer to him as 007. Rock star Sting also was honored by the queen.

Moore, 75, was knighted not for his portrayal of the unflappable British secret agent James Bond but for his charity work, including 12 years as a goodwill ambassador for UNICEF (news - web sites), the United Nations (news - web sites) Children's Fund.

"Her Majesty said I'd been involved with charities for a long time but she supposed that people will always call me 007," Moore said. "I said that I didn't mind because I was paid money for it!"

Earlier this year, Moore had a pacemaker fitted after collapsing on stage during a performance on Broadway. He is the second James Bond actor to be knighted Sir Sean Connery (news) was honored three years ago.

"I had the worst attack of stage fright in my life," Moore said of his meeting with the queen at Buckingham Palace.

"When you realize the gravitas of the situation, it's slightly nerve-racking," he said. "It was like a costume drama and I was Sir Ivanhoe a part I have played, incidentally."

The current Bond, Pierce Brosnan (news), collected an honorary Order of the British Empire in July. It was honorary because he is an Irish citizen.

Moore made seven Bond movies between 1973 and 1985, the same number as Connery, and previously starred in hit TV shows "The Saint" and "The Persuaders."

Rock star Sting also met the queen Thursday and was made a CBE, or Commander of the British Empire, a lesser honor than a knighthood.

Announced at the palace as "Gordon Sumner, known as Sting," the 51-year-old singer and songwriter took a bow before the queen.

"I've never met the queen before. It's a little bit like a dream," said Sting, formerly a member of the hit rock group The Police.

"I'd be surprised if she knows my music I know (Prince) Charles listens to it but there's always hope."

The honors are bestowed by the queen but largely selected by the government. The recipients were announced in June.
September 25, 2003: Australia DVD Set
Umbrella Video in Australia will be releasing in November a 6 DVD box set of the first 24 black and white episodes from the Roger Moore series.

This is pretty much the ultimate collectors edition--it don't get much better than this. The set includes bonus material, including an exclusive commentary track (on the first episode, The Talented Husband) by star Roger Moore, Producer Robert S, Baker and Production Supervisor Johnny Goodman.

The set also contains a reproduction of an original ITC publicity booklet, rare ITC publicity and memorabilia files, production notes, rare archive footage, image galleries, The Saint on Film text feature and trailers for other ITC series. The episodes will also be accompanied by isolated music and effects audio tracks. The discs are coded for all regions, and will be playable on all and USA & UK DVD players.

The Saint Club is now taking orders for these box sets. prices are as follows:

UK 60 including postage and packing (will take 2 to 4 weeks delivery)
US $100 including postage and packing (will take 2 to 4 weeks delivery)

Cheques should be made payable to THE SAINT CLUB and sent to The Saint Club, PO Box 258, Romsey, Hants. SO51 6WY England

And here's a minor bit of advice--if you're thinking of ordering do it sooner rather than later because we have a suspicion these will sell very very well.
July 29, 2003: The Saint Megaset DVD Collection
The Saint Megaset DVD Collection

Roger Moore stars as a suave adventurer with a nose for justice in this collection featuring every color episode of the '60s series.

DVD Features:

All 47 original color episodes presented in their U.S. broadcast order
Original broadcast trailers
Roger Moore biography and filmography
History of the Saint
Production stills gallery
Full-screen format
Number of discs: 14

Buy The Saint Megaset at A&E
June 8, 2003: Updated Saint on TV page
The Saint on TV page has just been updated with more information about each production, including pictures of all the actors who have played The Saint on television.
June 7, 2003: Vote for your Favorite Roger Moore Site
Starpages.net allows people to vote for their favorite Roger Moore site. Here are a few of my favorites:
May 30, 2002: Barer's Complete History Paperback
McFarland & Company has just released Burl Barer's amazing The Saint: A Complete History in Print, Radio, Film and Television of Leslie Charteris' Robin Hood of Modern Crime, Simon Templar, 1928-1992 in a new paperback edition.

This legendary tome is a must-have for Saint fans, and it is great that it is being reprinted in a "more affordable" edition. This book is a fantastic source of information about the Saint. It won an Edgar Award from the Mystery Writer's of America in 1993, and has been highly praised by even the harshest critics. The author's love of The Saint really shows through, and his exhaustive research is plain to see.
May 17, 2003: Roger Moore in Color DVD Megaset

A&E has announced that they will release the complete Saint in color DVD megaset on July 1st. This will include all of the color episodes from the Roger Moore series in one giant collection!

If you can't wait until July, you can purchase them all separately right now!
May 14, 2003: Roger Moore Cover Story
The latest issue of Action TV magazine has a ten-page in-depth article on the production of the 16 episodes of the first season of the Roger Moore Saint series.

Action TV also has an interview with scriptwriter Dick Sharples scheduled for their next issue -- as some of you probably know, Dick co-wrote three episodes of the first season with Gerald Kelsey.
May 12, 2003: Saint Jaguar Still Available
The original Jaguar XJ-S used on The Return of The Saint did not meet the reserve price on the eBay auction that ended yesterday. You still have a chance to own it!

If the real one is out of your price range, you should get this great die-cast Corgi Classic instead:
May 10, 2003: Trading Cards Coming Soon

May 9, 2003: Roger Moore Released From Hospital
By TARA BURGHART
Associated Press Writer

May 9, 2003, 2:58 PM EDT
NEW YORK -- Roger Moore, the suave star of seven James Bond movies, was released from a hospital Friday after being fitted for a pacemaker, according to a spokeswoman.

Moore, 75, collapsed during a Wednesday matinee performance of the Broadway comedy "The Play What I Wrote" but finished the show after a 10-minute break.

Moore was fitted for a pacemaker Thursday, according to Mary Cahill, a spokeswoman for UNICEF, the U.N. children's agency for which Moore has served as a goodwill ambassador for 12 years. Jerry Pam, Moore's agent in the U.S., also said Moore received a pacemaker.

"He's feeling absolutely fine," said Cahill, who spoke to Moore after he was discharged from the hospital.

Moore plans to keep a previously scheduled engagement Friday night, accepting an award on behalf of UNICEF from the French-American Aid for Children organization at a benefit dinner in Manhattan.

"He's very gallant. He's a real trooper," she said. "He does so much good work for us. The fact that he's making an effort to go there for us tonight is indicative of Roger's efforts for children."

Moore was playing the part of the mystery guest star, a rotating cameo role filled by celebrities, when he fainted toward the end of the second act of "The Play What I Wrote." He was taken to the hospital after the show.

Moore's agents originally said he had breathing problems on stage and was diagnosed with dehydration and exhaustion. But Moore had been told in the past that he would eventually have to get a pacemaker, Cahill said.

Pacemakers help maintain a normal heart rhythm, and Cahill said Moore's was inserted at Beth Israel Medical Center. Hospital officials did not immediately return a call for comment on Moore's surgery.

Moore is best known for his movie roles as the British agent 007.

His first James Bond film was "Live and Let Die" in 1973, and he went on to star in six other Bond movies: "The Man with the Golden Gun" (1974), "The Spy Who Loved Me" (1977), "Moonraker" (1979), "For Your Eyes Only" (1981), "Octopussy" (1983) and "A View to a Kill" (1985). He also played the hero Simon Templar in the TV series "The Saint."
May 8, 2003: Roger Moore collapses on stage
Thursday, May 8, 2003 Posted: 10:04 AM EDT (1404 GMT)
NEW YORK -- Former James Bond star Roger Moore was recovering in hospital Thursday after collapsing on a Broadway stage.

The 75-year-old British actor, who had been complaining of breathing difficulties, had been singing and dancing in the second act of the show, "The Play What I Wrote" -- in which he has a cameo role as a secret celebrity guest -- at the Lyceum on Broadway.

Moore, who played secret agent James Bond for more than 12 years during the 1970s and 1980s, was "comfortable and doing well," according to his assistant Gareth Owen.

"Roger was taken short of breath and fell to the floor on stage," Owen told the UK's Press Association.

The performance was resumed after a short break in which the curtains came down.

Moore battled through the final 10 minutes of his performance before being taken away by ambulance with an oxygen mask covering his face, PA said.

He was being treated at St Luke's-Roosevelt Hospital in Manhattan, where he is reported to be in stable condition. The cause of his collapse is unknown.

Moore shot to fame as the detective Simon Templar in the 1960s television series, "The Saint." The London-born actor took over the role of 007 agent James Bond from his predecessors Sean Connery and George Lazenby in the 1973 film "Live and Let Die."

He went on to star in another six Bond films such as "The Man with The Golden Gun" and "The Spy Who Loved Me" until his final Bond film, "A View to a Kill" in 1985.

Moore became an ambassador for the United Nations children's fund (UNICEF) in 1991, traveling the world for the international charity, campaigning and fundraising against cruelty to children.

He has continued to perform on stage and in films over the years. He hosted the Night of a Thousand Voices show at London's Royal Albert Hall last Sunday.

Other actors in the cast include Sean Foley, Hamish McColl and Toby Jones. This was Moore's second performance of the 2002 Olivier Award-winning play.

Other celebrity guests in "The Play What I Wrote" -- a tribute to 1970s British comics Eric Morecambe and Ernie Wise directed by Kenneth Branagh -- include Schindler's List star Liam Neeson, actor Nathan Lane and actress Zoe Caldwell.

Copyright 2003 Cable News Network LP, LLLP. An AOL Time Warner Company. All Rights Reserved.
May 5, 2003: Saint Rugby Shirt
Rugby is game most English Saints will have head of. Those really interested in the sport may have heard of St Helens Rugby Club. They came top of the Super League last year. And this year, they've given their captain Chris Joynt a testimonial season to celebrate his long service to the team. By way of additional celebration they've produced a testimonial shirt, and for this they've referred to an old design that features a certain Saintly stick-man.

These shirts have been produced with the permission of The Estate of Leslie Charteris and can be ordered online at http://www.chrisjoynt.com/
May 3, 2003: The Saint in Palm Springs
Saint's tale takes English twist
LESLIE CHARTERIS: A member of the British fan club provides insight into the author's life.
05/03/2003
By SHANNON STARR
THE PRESS-ENTERPRISE

PALM SPRINGS - Searching for historical information on residents of Palms Springs can sometimes prove difficult.

Then, after collecting enough for a story, an article is printed. Then, out of the woodwork comes a person who knows more and has more information that would have been a big help.

Ian Dickerson, 33, is the honorary secretary of The Saint Club in the Village of West Wellow in Hampshire, England. He saw last week's column on Leslie Charteris while doing an Internet search on Charteris' name. In the course of a few e-mails Dickerson sent information that would have been wonderful to include along with another photograph. So, the story of Leslie Charteris continues.

Dickerson became interested in the creator of "The Saint" series at the age of 8 watching the series "The Return of the Saint" with Ian Ogilvy in the 1970s. An older brother had some of the books and Dickerson says he was immediately hooked.

Writing to an old address on the back of one of the books he joined The Saint Club. When a 1980s version of the television series came out he wrote to the club suggesting a newsletter. His letter was passed on the Charteris.

"He rang me up one night and we struck up a friendship," Dickerson said.

At the time Dickerson was in his mid-teens. Charteris died in 1993. Dickerson took over The Saint Club and since then he says has become good friends with Charteris' widow and daughter.

Writing biography

For the past 15 years Dickerson has continued the Saint Club with more than 4,000 names on its mailing list. He is writing a biography of Charteris and has established friendships with many of the author's friends. This is the 75th anniversary of the publication of the first Saint book.

"What amazes me is how much he was like the Saint," Dickerson said. "So much so that I've been advertising the biography as a real life Saint adventure. The Saint's philosophies and attitudes stem from his creator; Charteris lived life to the full."

According to the research he's done Dickerson says that Charteris sailed with Errol Flynn and Gregory Peck. He played tennis with Marlene Dietrich at Charlie Farrell's Racquet Club after being asked by Farrell.

"I was of course most willing to oblige, and even more delighted to discover that this gorgeous creature, the universal epitome of feminine poise and grace, has so little athletic coordination that even I could do anything I like with her across a net," Charteris wrote.

Most of the information Dickerson has collected was combed from "A Letter from the Saint," a subscription letter Charteris sent from Hollywood in the mid-1940s. Other information came from his regular column in Gourmet magazine called "Along the Boulevards." In addition Dickerson received private correspondence from Charteris.

Flames and starlets

Charteris also tried to help a struggling actress.

Driving home one night with others they saw flashing lights and a commotion as they drew close to home.

" 'Must be a fire,' we diagnosed cheerfully. 'And right nearby,' we added with sublime detachment, as we drew closer. 'In fact, almost next door.' All right, you guessed it. It was us." Charteris wrote.

After picking through the rubble of their home Charteris wrote they went to the Lone Palm motel. Ending up in the bar, "for essential if ephemeral solace" he met with Al Hall, a director. Hall was with a strawberry-blond starlet who told Charteris, "You know, you have one of the most interesting faces I have ever seen."

Charteris wrote that he replied, "And so have you. You ought to be in pictures."

Rating writers in Hollywood even lower in the pecking order than starlets, Charteris said he helped get the actress in the first film he wrote at MGM. "Time for Two" was renamed "Two Smart People" and was released in 1946. It bombed at the box office.

"So the poor girl had to make it through other parts, and I was glad to hear she finally did. Her name was Lucille Ball, and she ended up owning the entire RKO lot." Charteris wrote.

In 1957 Ball purchased RKO with her husband Desi Arnaz and the studio was renamed Desilu. In 1962 she purchased Arnaz's half and owned it all.

Dickerson visited the area in 1993 and said, "The history of the town is fascinating and the people were a delight, friendly and interesting." He also sent some words that Charteris wrote about living life to the fullest.

"We shall learn that romance lies not in the things we do, but in the way we do them."

Reach Shannon Starr at (909) 587-3136 or sstarr@pe.com
May 1, 2003: The Saint is Selling his Jaguar! Really!
The actual Jaguar XJ-S that was used in The Return of the Saint is now for sale on eBay UK. The auction ends on May 11th, just past noon British time.

This rare original Jaguar was 17th off the production line and was BL Longbrdiges' own test/works car from 1975 until 1977 when it was dispatched to The Return of The Saint television series. It was fitted from Jaguar new with manual transmission which is very rare indeed and is the only one to have a factory fitted sunroof. The car also benefits from a modified blue printed engine and modified suspension.

Act now! This is your chance to own a Saint collectable which is really unique and one-of-a-kind!
March 16, 2003: The Saint Sold his Volvo!
I just sold my 1972 Volvo 1800E to a chap in Seattle, Washington.

I have owned two of these classic cars; the other was a white 1964 Volvo 1800S.
February 17, 2003: Beautiful Suzanne Lloyd
Suezanne Lloyd, who appeared in six episodes of the Saint with Roger Moore, now has her own website at http://www.suzannelloyd.com/. Look at the gallery for a few pages of screenshots of her in The Saint.
January 20, 2003: New Television Saint?
According to Variety, Monday January 20th, in the works is an updated version of classic mystery-adventure series "The Saint," which aired on the Peacock in the 1960s with Roger Moore in the starring role and was made into a 1997 film starring Val Kilmer. Craig Anderson has partnered with Fremantle International Distribution and international co-production maven Marla Ginsburg, who recently pacted with Fremantle, to pitch a series revival to networks and possibly cable.
News and Rumors Archives
If you want more Saint news, there was lots of news in 2010, 2009, 2008, 2007, 2006, 2005, 2004, 2003, 2002, 2001, 2000, 1999, 1998, late 1997, early 1997, 1996, and 1995. As always, be sure to check The Saint's News and Rumors Blog on a regular basis.