Adam Rayner
Actor who played Simon Templar, alias The Saint, on Television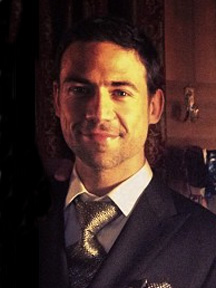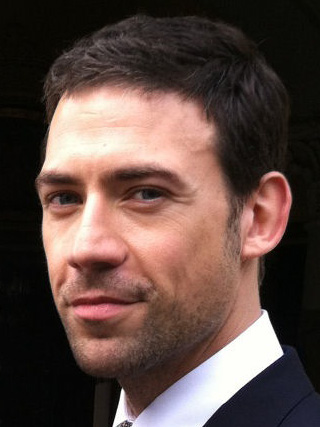 Adam Rayner played Simon Templar, alias The Saint in the 2013 TV series opposite Eliza Dushku as Patricia Holm.

The Saint disappeared for a time after the 1997 Val Kilmer movie, and while many attempts at getting a television series off the ground came and went, nothing made it to production. Rumors included such stars as James Purefoy and Dougray Scott attached to them. In 2012, the years of perseverance finally paid off. With Roger Moore and Ian Ogilvy both involved, shooting of the new TV series of The Saint began in December 2012 with Adam Rayner playing Simon Templar, and Eliza Dushku as Patricia Holm.

The pilot show of the series is loosely based on the Rayt Marius trilogy, which was written about by Leslie Charteris in The Last Hero, Knight Templar, and Getaway.

Adam Rayner is an English actor who will play The Saint, which is exactly what most people expect Simon Templar to be. The Saint really is English at his core, just as the author of The Saint books, Leslie Charteris, himself was. The Saint's background is really Charteris' view of a true man of the world -- similar to himself. Born in an British colony, and a well-travelled cosmopolitan history, living many places around the world, including England, France, and the United States.

Adam Rayner was born Shrewsbury, England in 1977 to an American mother and a British father, and spent his early life in Norfolk, in a small village near Norwich, as well as the United States. The Rayner family lived only briefly in the United States, and returned to East Anglia for the remainder of his childhood. Adam has one older brother Matthew, who is six years older than him. Being born in England to an American mother and a British father give him dual nationality. He attended Durham University, receiving a degree in English. At Durham, he was also a member of the university's drama group. Following his graduation from Durham, he pursued his acting career, taking a two-year course at the London Academy of Music and Dramatic Art. Adam Rayner has appeared on the London stage, including such shows as the American play 'This Is Our Life', in which he took over the lead for two weeks when Matt Damon was unable to perform. He has also played with the Royal Shakespeare Company.

On television he has been on 'Mistresses' and 'At Home with the Braithwaites' with Amanda Redman, and 'Doctor Who'. Adam Rayner most recently starred as Aidan Marsh in the TV series, Hunted, a Frank Spotnitz (of the X-Files) spy dramma from the BBC and Cinemax. Rayner is also known for his work on Doctor Who, Making Waves, and Hawthorne.

The British tabloids have linked him romantically to Amanda Redman, who was his co-star in 'At Home with the Braithwaites'.
The Saint (2013)
Starring Adam Rayner and Eliza Dushku
Principal photography began on Monday, December 17th, in Pacific Palisades, California. The first episode was filmed as a back-door pilot, and backed by Roger Moore, Jesse Alexander, and Silverscreen Pictures.
The Cast
Adam Rayner, Simon Templar alias The Saint
Eliza Dushku, Patricia Holm
Enrique Murciano, Inspector John Henry Fernack
Greg Grunberg, Detective Garces
Sir Roger Moore, Jasper, The Banker
Ian Ogilvy, The Fixer
Thomas Kretschmann, Rayt Marius
Oliver Bell, Young Simon Templar
Kirsty Mitchell, Simon's Mother
Yani Gellman, Doyle Cosentino
James Remar, Arnie Valecross
Beatrice Rosen, Katherine Valecross
Sammi Hanratty, Zooey Valecross
Michael Ornstein, Kal Barko
Sonalii Castillo, Sonali Alves
Jason Brooks, Captain Miller
The Crew
Jesse Alexander, Executive Producer & Screenwriter
Simon West, Director
Brad Krevoy, Executive Producer, MPCA Production Company
Roman Viaris, Executive Producer
Roger Moore, co-Producer
Geoffrey Moore, co-Producer
Lulu Moore, co-Producer
Louisa Macdonald, co-Producer
Jim Martin, co-Producer
Kurt Jones, Cameras
Paul Sommers, Camera
Uly, Focus Puller
Jack L. Zeman, Still Photographer
Josh Hakian, Special Effects Coordinator
Ian Dickerson, Creative Consultant
Bill MacDonald, Creative Consultant
Fred Fuchs, Production
Mandy Sherman, Casting Director, Sherman/Knight
Sari Knight, Casting Director, Sherman/Knight
Morgan Redfield Smith, Casting Assistant
Michael MacDermott, Product Placement
Francisco J. González, International Sales
Silverscreen Pictures
&nbsp
Adam Rayner Shop on Amazon.com
&nbsp
The History of The Saint on TV
The Saint was finally adapted for television in 1962, with Roger Moore portraying the Saint in 71 black and white, and 47 color episodes. The show came to an end in 1969, but later resurfaced in 1979, aptly named The Return of The Saint. Ian Ogilvy was the new Saint for 24 color episodes, but didn't last long. A pilot for a new Saint show was made in 1987 by D.L. Taffner, starring Andrew Clarke as The Saint. There were no other episodes other than the one pilot episode. Then, in 1989 the Saint was once again welcomed back to television in six 2-hour movies featuring Simon Dutton as Simon Templar, alias the Saint. The Saint returned again to the small screen in 2013, with Adam Rayner in the starring role.
Other Actors Who've Played The Saint
Portrals of Simon Templar on Film in Movie Motion Pictures:

Louis Hayward, George Sanders, Hugh Sinclair, Jean Marais, and Val Kilmer

The Saint Radio shows on Old-Time Radio:

Vincent Price, Barry Sullivan, Brian Aherne, Edgar Barrier, Felix Marten, Lawrence Dobkin, Paul Rhys, Terence De Marney, Tom Conway, and Tom Meehan

Actors who played The Saint on Television TV Programs:

Roger Moore, Ian Ogilvy, Andrew Clarke, Simon Dutton, and Adam Rayner

Starring as The Saint in Photoplay:

Leslie Charteris