Val Kilmer
Actor who played Simon Templar, alias The Saint, in the Movies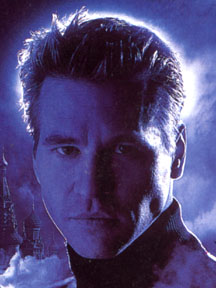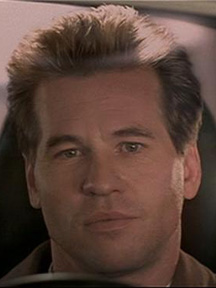 Val Kilmer played The Saint in the 1997 Paramount movie.
Wikipedia
A film with Val Kilmer in the title role was finally made in 1997, but diverged far from the Charteris books, although it did revive Templar's use of aliases. Among other things, Kilmer's Saint is unable to defeat a Russian gangster in hand to hand combat and is forced to flee; this would have been unthinkable in a Charteris tale. Whereas the original Saint resorted to aliases which all had the initials S.T., Kilmer's character used names of Christian saints, regardless of whether they shared the initials. Unusually for an action star of the time (as in heroes played by Seagal, Willis or Mel Gibson), this Saint refrained from killing and was a master of disguise. Charteris' version had no qualms about taking another life and, in order to escape his enemies, he used crude disguises instead of the sophisticated ones shown in this film. The film mirrored some aspects of Charteris's own life, notably his origins in the Far East, though not in an orphanage as the film portrayed. Roger Moore's voice had a cameo as a radio newsreader at the end of the film.
1997 The Saint
Paramount Pictures, USA. Released on April 4, 1997. 116 minutes.

Directed by Philip Noyce. Produced by Robert Evans, William Macdonald, Mace Neufeld, and David Brown. Executive Producers are Robert S. Baker and Paul Hitchcock. Screenplay by Wesley Strick.

Val Kilmer stars as Simon Templar, alias The Saint. Elisabeth Shue stars as the leading lady. Other cast members include Valery Nikolaev, Rade Serbedzija, and Evgueni Lazarev.


---
Other Actors Who've Played The Saint
Portrals of Simon Templar on Film in Movie Motion Pictures:

Louis Hayward, George Sanders, Hugh Sinclair, Jean Marais, and Val Kilmer

The Saint Radio shows on Old-Time Radio:

Vincent Price, Barry Sullivan, Brian Aherne, Edgar Barrier, Felix Marten, Lawrence Dobkin, Paul Rhys, Terence De Marney, Tom Conway, and Tom Meehan

Actors who played The Saint on Television TV Programs:

Roger Moore, Ian Ogilvy, Andrew Clarke, Simon Dutton, and Adam Rayner

Starring as The Saint in Photoplay:

Leslie Charteris