Lawrence Dobkin (Larry Dobkin)
Actor who played Simon Templar, alias The Saint, on Radio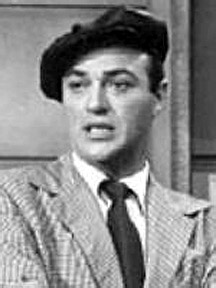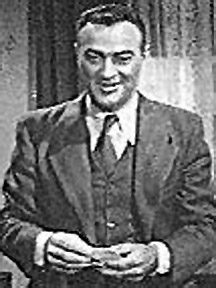 Larry Dobkin played The Saint for one episode on the radio series in 1951.

Lawrence Dobkin normally played Louie, the Saint's sidekick in "The Saint" (CBS, Mutual, and NBC radio, 1945 - 1951). "Louie" is a Brooklyn Cab Driver, who keeps The Saint streetwise while getting him across town.

While most famous for his role as The Saint's sidekick, Louie, on The Saint radio show, Larry had to step in as The Saint for one episode in 1951. Tom Conway who was the star of the show at the time had a serious drinking problem and was unavailable for the recording of "The Fish Case" by Dick Carr on Tuesday September 4, 1951. Larry saved the day, and thereby became one of the actors to portray Leslie Charteris' Simon Templar, alias The Saint.

Obituary of Lawrence Dobkin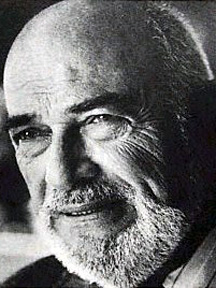 By Tom Vallance, The Independent (London), November 9, 2002

A character actor and television director whose career spanned seven decades, Lawrence Dobkin appeared in many films and over 200 television shows.

In his earlier career he was a prolific radio performer, and his mellifluous voice was often used for narration and voice-overs. His voice is heard narrating Delmer Daves's classic western Broken Arrow (1950) and Henry Koster's The Robe (1953) and for many years his was the voice that announced the television series The Naked City, closing the show with the statement that "there are eight million stories in the naked city, and this has been one of them". His films include Sweet Smell of Success (1956), The Defiant Ones (1958) and North by Northwest (1959).

A former child actor who started doing radio work to pay for his studies at the Yale School of Drama, Dobkin was born in New York City in 1919. He understudied Paul Lukas in the Broadway production of Lillian Hellman's anti-Fascist play Watch on the Rhine (1942) prior to serving with a radio propaganda unit of the Air Force during the Second World War. Returning to broadcasting in New York, he was one of five actors who played the famed detective Ellery Queen on radio.

Dobkin became one of the medium's stalwarts and he often acted in many series concurrently. In The Adventures of Nero Wolfe (1950-51) the eponymous orchid fancier and "gargantuan gourmet" of Rex Stout's mystery novels was played by Sidney Greenstreet, with Dobkin as Archie, his secretary with a roving eye, who would goad Wolfe into taking a case whenever their finances were low. Other radio shows included Escape (1947-54), often cited as radio's greatest adventure series, The Saint (1951-55), Gunsmoke (1952-61), and such anthologies as Lux Radio Theater. "The few of us who are left," he said recently, "keep telling each other that we never had it so good."

He moved easily into television in the Fifties, and in 1967 received an Emmy nomination as best supporting actor for his role in the "CBS Playhouse" production Do Not Go Gentle into That Good Night. He started directing for television in 1960, and his work in this field included the pilot show and first six episodes of The Munsters (1964).

Dobkin made his film debut as an extra in Kiss of Death (1947), but had his first acting role as an Assistant District Attorney in Ida Lupino's production Not Wanted (1949). Often cast as figures of authority, his other films included 12 O'Clock High (1949, as padre of a wartime bomber unit), The Day the Earth Stood Still (1951), Five Fingers (1952), Julius Caesar (1953) and The Ten Commandments (1956).

In Alexander Mackendrick's stunning portrait of a powerful columnist and a venal press agent, Sweet Smell of Success (1957), Dobkin portrayed a columnist with ethics whom, in a gripping scene, the press agent (Tony Curtis) attempts to bribe over his secret dalliance with a cigarette girl. While his wife studies racing form in a newspaper at her night-club table, Dobkin is given a "smear" item by Curtis to be planted in his column, but Dobkin instead refuses and confesses his "moment of weakness" to his wife. The scene is a masterclass in writing, direction and acting.

In Hitchcock's North by Northwest (1957), Dobkin is an intelligence official who discusses the plight of the hero, who has been mistaken for an agent who doesn't exist and has now become a murder suspect. "It's so horribly sad," he says drily, "why is it I feel like laughing?"

Dobkin wrote one film script, the children's film The Life and Times of Grizzly Adams (1976).

Lawrence Dobkin, actor: born New York 20 January 1919; twice married (one son, three daughters); died Los Angeles 28 October 2002.

Copyright 2002 Independent Newspapers UK Limited
Hal Erickson, All Movie Guide
Along with such colleagues as William Conrad, John Dehner, Vic Perrin, Sam Edwards, Barney Phillips, and Virginia Gregg, bald-pated American character actor Lawrence Dobkin was one of the mainstays of network radio in the 1940s, 1950s, and 1960s. Dobkin began popping up in films in 1949, playing any number of doctors, lawyers, attachés, military officials, and desk sergeants. Most of his parts were fleeting, many were unbilled: he can be seen as a soft-spoken rabbi in Angels in the Outfield (1951), one of the three psychiatrists baffled by alien visitor Klaatu in The Day the Earth Stood Still (1951), an angered citizen of Rome in Julius Caesar (1953), and so on. Enjoying larger roles on TV, Dobkin was generally cast as a scheming villain (e.g., Dutch Schultz on The Untouchables). One of his showiest assignments was as the demented Gregory Praxas, horror film star turned mass murderer, in the 1972 pilot film for Streets of San Francisco. From the early '60s onward, Dobkin was busier as a writer and director than as an actor. He amassed a respectable list of TV directorial credits, as well as one theatrical feature, Sixteen (1972). Habitués of "speculation" docudramas of the 1970s and 1980s will recognize Lawrence Dobkin as the bearded, avuncular narrator of many of these efforts; he also appeared as Pontius Pilate in the speculative 1979 four-waller In Search of Historic Jesus.

---
Other Actors Who've Played The Saint
Portrals of Simon Templar on Film in Movie Motion Pictures:

Louis Hayward, George Sanders, Hugh Sinclair, Jean Marais, and Val Kilmer

The Saint Radio shows on Old-Time Radio:

Vincent Price, Barry Sullivan, Brian Aherne, Edgar Barrier, Felix Marten, Lawrence Dobkin, Paul Rhys, Terence De Marney, Tom Conway, and Tom Meehan

Actors who played The Saint on Television TV Programs:

Roger Moore, Ian Ogilvy, Andrew Clarke, Simon Dutton, and Adam Rayner

Starring as The Saint in Photoplay:

Leslie Charteris