Tom Conway
Actor who played Simon Templar, alias The Saint, on Radio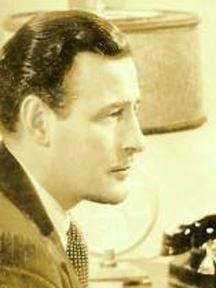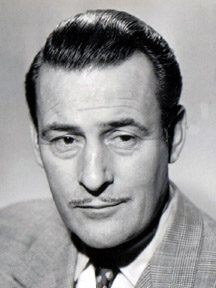 Tom Conway played The Saint in on the radio in 1951 for a few episodes.
The Saint on Old-Time Radio
The Saint was first brought to life on the radio in 1940 by Terence De Marney (aka Terrance De Marney) on Radio Athlone. It was then a five-year wait before NBC picked up the option, and featured Edgar Barrier as Simon Templar, alias The Saint. Later in 1945, Brian Aherne took over the role when the show switched over to CBS. Then in 1947, probably the most famous Radio Saint of all-time, Vincent Price, added his golden voice to the role. Vincent Price was once quoted as saying the most difficult thing about the show was coming up with new and unique ways to get conked on the head. After a large number of episodes, Price finally left and his replacement Barry Sullivan only lasted a few episodes before the show was cancelled. It was resurrected due to public demand, with Vincent Price returning to save the day. In 1951, Tom Conway (George Sanders' brother), of The Falcon fame, played The Saint for the last few episodes, with Lawrence Dobkin stepping in for a single episode when Conway was unavailable. Between 1953 and 1957, Tom Meehan starred as The Saint on Springbok Radio in South Africa (in English) with fresh adaptations of the original Charteris stories. It wasn't until 1995 that the Saint returned to radio with new episodes, with Paul Rhys portraying The Saint in three scripts taken directly from the orginal Charteris stories.
IMDB Mini Biography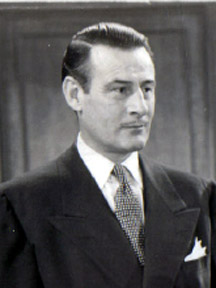 Tom Conway was the Falcon in ten of that series' entries. He starred in three Val Lewton horror classics. He appeared in comedies, musicals, two Tarzan films, and even science fiction films. He was early television's Detective Mark Saber but Tom Conway will probably be remembered as George Sanders' brother. Born into a wealthy family in pre-Bolshevik Revolution Russia, Thomas Charles Sanders might have followed his father as a rope manufacturer and inherited several estates. Had the family not been forced to flee to England, the brothers Sanders might never have added their names to the Hollywood saga. But the Russian Revolution came, and Tom (age 13), George (age 11), sister Margaret (age 5) together with their parents fled to England, leaving most of their wealth in the hands of the Bolsheviks. The brothers attended Dunhurst and Bedales, private schools, and eventually Brighton College. After college, Tom went to Northern Rhodesia where he worked in gold, copper and asbestos mines and even attempted ranching. Frustrated and "pretty well fed to the teeth" with his failures, he borrowed passage home.

In England, Conway worked as an engineer in a carburetor company and later sold safety glass. He was discovered by a representative from a little theater group who persuaded him to join them. Conway eventually worked for the Manchester Repertory Company and toured with them in over twenty-five plays. He also appeared in BBC radio broadcasts. Brother George persuaded him to come to Hollywood. To prevent confusion on the part of the public, they tossed a coin to see who would have to change his name. Tom lost, thereby becoming Tom Conway. Conway began work at MGM, eventually appearing as a contract player in twelve films there, including a bit part in Mrs. Miniver (1942). Brother George, tiring of B-film appearances in RKO'S Falcon series and with better roles at two studios looming on the horizon, offered Tom his first big break. In The Falcon's Brother (1942), George conveniently eliminated by a Nazi sniper so that Tom, as Tom Lawrence could inherit the role. Conway played the role with even greater success than his brother in the next ten installments, concluding with The Falcon's Adventure (1946). During those years, he also appeared in Val Lewton's Cat People (1942), I Walked with a Zombie (1943) and The Seventh Victim (1943). These led to two major film appearances, Universal's One Touch of Venus (1948), with Ava Gardner and Eve Arden and Warner Brothers Painting the Clouds with Sunshine (1951). Amidst the collapse of the studio system, Tom found his opportunities shrinking. There were to be no further major roles for him. His next film was Bride of the Gorilla (1951). Alert to new possibilities for work, he accepted the part of homicide detective Mark Saber in "Mark Saber" (1951). Conway also made several mystery films in England during the same period. He played a cameo role as a bearded and be-wigged Sir Kay in Prince Valiant (1954) with two brief lines.

Back in the states, there were guest appearances on "Rawhide" (1959), "Adventures in Paradise" (1959), and "Perry Mason" (1957). In October, 1957, Tom turned in a brilliant performance as ventriloquist Max Collodi in "Alfred Hitchcock Presents" (1955) chilling tale "The Glass Eye". He appeared regularly as the boyfriend on the "The Betty Hutton Show" (1959). Conway lent his voice to One Hundred and One Dalmatians (1961). His final appearance was an uncredited part, in What a Way to Go! (1964).

Failing eyesight and prolonged bouts with alcohol took their toll on Conway in his last years. His second wife, Queenie Leonard divorced him in 1963. George Sanders broke off all contact with him over his drinking. Conway underwent cataract surgery during the winter of 1964/65. In September of 1965 Tom briefly returned to the headlines when he was discovered living in a $2-a-day room in a Venice, California flophouse. Gifts, contributions and offers of aid poured in - for a time. Conway, still standing tall and trim, hair white, peered owl-like through thick-lensed glasses at the newspaper cameras. His last years were marked with further visits to the hospital. It was there that former sister-in-law Zsa Zsa Gabor visited him one day and gave him $200. "Tip the nurses a little bit so they'll be good to you", she told him. The following day, the hospital called her to say that Conway had left with the $200, gone to his girlfriend's and died in her bed.
Selected Filmography for Tom Conway
The Great Meddler (1940)
Free and Easy (1941)
Lady Be Good (1941)
Tarzan's Secret Treasure (1941)
The Falcon's Brother (1942)
The Falcon Strikes Back (1943)
The Falcon in Danger (1943)
The Seventh Victim (1943)
The Falcon and the Co-eds (1943)
The Falcon Out West (1944)
The Falcon in Mexico (1944)
The Falcon in Hollywood (1944)
The Falcon in San Francisco (1945)
Whistle Stop (1946)
The Falcon's Alibi (1946)
The Falcon's Adventure (1946)
13 Lead Soldiers (1948)
The Challenge (1948)
The Checkered Coat (1948)
Prince Valiant (1954)
Death of a Scoundrel (1956)
The Atomic Submarine (1959)
12 to the Moon (1960)


&nbsp
Tom Conway Shop on Amazon.com
&nbsp
Other Actors Who've Played The Saint
Portrals of Simon Templar on Film in Movie Motion Pictures:

Louis Hayward, George Sanders, Hugh Sinclair, Jean Marais, and Val Kilmer

The Saint Radio shows on Old-Time Radio:

Vincent Price, Barry Sullivan, Brian Aherne, Edgar Barrier, Felix Marten, Lawrence Dobkin, Paul Rhys, Terence De Marney, Tom Conway, and Tom Meehan

Actors who played The Saint on Television TV Programs:

Roger Moore, Ian Ogilvy, Andrew Clarke, Simon Dutton, and Adam Rayner

Starring as The Saint in Photoplay:

Leslie Charteris