Paul Rhys
Actor who played Simon Templar, alias The Saint, on Radio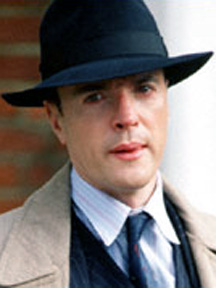 Paul Rhys played The Saint in a BBC Radio 4 series in 1995.
Masterpiece Theatre Biography
Rhys burst on to the scene in dramatic fashion a decade ago, being chosen by Robert Altman to star with Tim Roth in Vincent & Theo. "I was spoilt early on with Altman. I worked with him and thought life would always be like that. Of course it's not," he smiles.
His success took him to America, where he starred in movies like Nina Takes A Lover with Laura San Giacomo and From Hell which also stars Johnny Depp. "America opened up quite big for me. But it drives me slightly mad over there," says Rhys who now prefers to base himself in Britain so as to be available for stage work. "America is not the be all and end all; I would always have to have the theatre."
Rhys will be familiar to Masterpiece Theatre viewers from his role as Nikolai in Anna Karenina.
The Saint on Old-Time Radio
The Saint was first brought to life on the radio in 1940 by Terence De Marney (aka Terrance De Marney) on Radio Athlone. It was then a five-year wait before NBC picked up the option, and featured Edgar Barrier as Simon Templar, alias The Saint. Later in 1945, Brian Aherne took over the role when the show switched over to CBS. Then in 1947, probably the most famous Radio Saint of all-time, Vincent Price, added his golden voice to the role. Vincent Price was once quoted as saying the most difficult thing about the show was coming up with new and unique ways to get conked on the head. After a large number of episodes, Price finally left and his replacement Barry Sullivan only lasted a few episodes before the show was cancelled. It was resurrected due to public demand, with Vincent Price returning to save the day. In 1951, Tom Conway (George Sanders' brother), of The Falcon fame, played The Saint for the last few episodes, with Lawrence Dobkin stepping in for a single episode when Conway was unavailable. Between 1953 and 1957, Tom Meehan starred as The Saint on Springbok Radio in South Africa (in English) with fresh adaptations of the original Charteris stories. It wasn't until 1995 that the Saint returned to radio with new episodes, with Paul Rhys portraying The Saint in three scripts taken directly from the orginal Charteris stories.

&nbsp
Paul Rhys Shop on Amazon.com
&nbsp
Other Actors Who've Played The Saint
Portrals of Simon Templar on Film in Movie Motion Pictures:

Louis Hayward, George Sanders, Hugh Sinclair, Jean Marais, and Val Kilmer

The Saint Radio shows on Old-Time Radio:

Vincent Price, Barry Sullivan, Brian Aherne, Edgar Barrier, Felix Marten, Lawrence Dobkin, Paul Rhys, Terence De Marney, Tom Conway, and Tom Meehan

Actors who played The Saint on Television TV Programs:

Roger Moore, Ian Ogilvy, Andrew Clarke, Simon Dutton, and Adam Rayner

Starring as The Saint in Photoplay:

Leslie Charteris