Vincent Price
Actor who played Simon Templar, alias The Saint, on Radio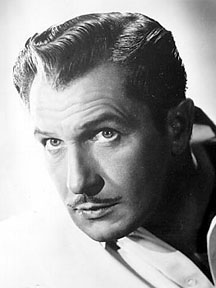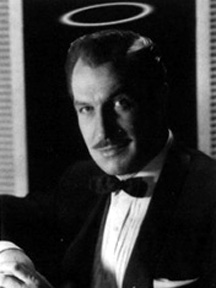 Vincent Price played The Saint on the radio.
The Saint on Old-Time Radio
The Saint was first brought to life on the radio in 1940 by Terence De Marney (aka Terrance De Marney) on Radio Athlone. It was then a five-year wait before NBC picked up the option, and featured Edgar Barrier as Simon Templar, alias The Saint. Later in 1945, Brian Aherne took over the role when the show switched over to CBS. Then in 1947, probably the most famous Radio Saint of all-time, Vincent Price, added his golden voice to the role. Vincent Price was once quoted as saying the most difficult thing about the show was coming up with new and unique ways to get conked on the head. After a large number of episodes, Price finally left and his replacement Barry Sullivan only lasted a few episodes before the show was cancelled. It was resurrected due to public demand, with Vincent Price returning to save the day. In 1951, Tom Conway (George Sanders' brother), of The Falcon fame, played The Saint for the last few episodes, with Lawrence Dobkin stepping in for a single episode when Conway was unavailable. Between 1953 and 1957, Tom Meehan starred as The Saint on Springbok Radio in South Africa (in English) with fresh adaptations of the original Charteris stories. It wasn't until 1995 that the Saint returned to radio with new episodes, with Paul Rhys portraying The Saint in three scripts taken directly from the orginal Charteris stories.

IMDb Mini Biography By: Lester A Dinerstein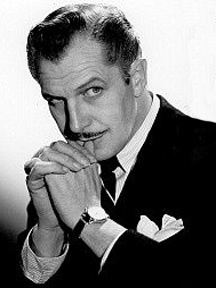 Actor, writer, and gourmet, Vincent Price was born in St Louis, Missouri. He traveled through Europe, studied at Yale and became an actor. He made his screen debut in 1938, and after many minor roles, he began to perform in low-budget horror movies such as House of Wax (1953), achieving his first major success with House of Usher (1960). Known for his distinctive, low-pitched, creaky, atmospheric voice and his quizzical, mock-serious facial expressions, he went on to star in a series of acclaimed Gothic horror movies, such as Pit and the Pendulum (1961) and The Abominable Dr. Phibes (1971).
He abandoned films in the mid-1970s, going on to present cooking programs for television - he wrote "A Treasury of Great Recipes" (1965) with his second wife, Mary Grant - but had two final roles in The Whales of August (1987) and Edward Scissorhands (1990). He also recorded many Gothic horror short stories for the spoken-word label Caedmon Records.

Vincent Price as The Saint on Radio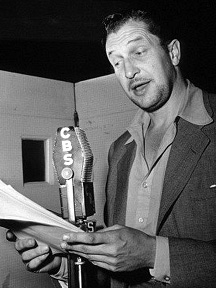 The longest-running and best known radio incarnation of Simon Templar was Vincent Price, who played the character in a long-running series that was broadcast between 1947 and 1951 on no fewer than three networks: CBS, Mutual and NBC. After Price left the series in May 1951, he was replaced by Tom Conway, who played the role for several more months. (His brother, George Sanders, played Templar on film.)

In an early 1970s interview about his work on radio, Vincent Price had this to say about portraying The Saint, "Each week I had to come up with a new way to sound when I would inevitably be hit on the head."

Wikipedia on Early Career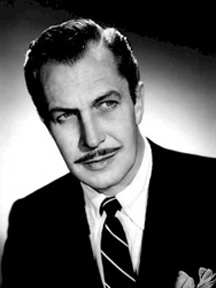 Vincent Price was born in St. Louis, Missouri to Vincent Leonard Price and Marguerite Willcox. His father was president of the National Candy Company. His grandfather, Vincent Clarence Price invented "Dr Price's Baking Powder", the first cream of tartar baking powder, and secured the family's fortune.[1] Vincent Jr. attended St. Louis Country Day School. He was further educated at Yale in art history and fine art. He was a member of Alpha Sigma Phi Fraternity and the Courtauld Institute, London. He became interested in theater in the 1930s, appearing professionally on stage from 1935.

He made his film debut in 1938 with Service de Luxe and established himself as a competent actor, notably in Laura (1944), opposite Gene Tierney, directed by Otto Preminger. He also played Joseph Smith, Jr. in the movie Brigham Young (1940). During the 1940s, he appeared in a wide variety of films from straight-forward drama to comedy to horror (he provided the voice of The Invisible Man at the end of Abbott and Costello Meet Frankenstein in 1948). In 1946 he reunited with Gene Tierney in two notable films Dragonwyck and Leave Her to Heaven. He was also active in radio, portraying the Robin Hood-inspired crime-fighter Simon Templar, aka. The Saint, in a popular series that ran from 1947 to 1951.

In the 1950s, he moved into horror films, enjoying a role in the successful curiosity House of Wax (1953), the first 3-D film to land in the year's top ten at the North American box office, and then the classic monster movie The Fly (1958).

Price also starred in the original House on Haunted Hill (1959) as the eccentric millionaire Fredrick Loren. (Geoffrey Rush, playing the same character in the 1999 remake, was not only made to resemble Price, but was also renamed Steven Price.)
Selected Filmography of Vincent Price
Service de Luxe, Universal, 1938
The Private Lives of Elizabeth and Essex, Warner Brothers, 1939
The Tower of London, Universal, 1939
Green Hell, Universal, 1940
House of Seven Gables, Universal, 1940
The Invisible Man Returns, Universal, 1940
The Song of Bernadette, Twentieth Century-Fox, 1943
Buffalo Bill, 1944
The Eve of St. Mark, Twentieth Century-Fox, 1944
Wilson, Twentieth Century-Fox, 1944
The Keys of the Kingdom, Twentieth Century-Fox, 1944
Laura, Twentieth Century-Fox, 1944
A Royal Scandal, Twentieth Century-Fox, 1945
Leave Her to Heaven, 1945
Dragonwyck, Twentieth Century-Fox, 1946
Shock, Twentieth Century-Fox, 1946
The Long Night, RKO, 1947
Moss Rose, 1947
The Web, Universal, 1947
The Three Musketeers, Metro-Goldwyn-Mayer (MGM), 1948
Rogue's Regiment, 1948
The Bribe, 1949
Bagdad, 1949
Baron of Arizona, 1950
Curtain Call at Cactus Creek, Universal, 1950
Champagne for Caesar, Universal, 1950
His Kind of Woman, RKO, 1951
Adventures of Captain Fabian, Republic, 1951
Las Vegas Story, RKO, 1952
House of Wax, Warner Brothers, 1953
Dangerous Mission, RKO, 1954
Mad Magician, Columbia, 1954
Son of Sinbad, RKO, 1955
Serenade, Warner Brothers, 1956
The Ten Commandments, Paramount, 1957
Story of Mankind, Warner Brothers, 1957
While the City Sleeps, RKO Radio Pictures, 1958
The Fly, Twentieth Century-Fox, 1958
The Return of the Fly, Twentieth Century-Fox, 1959
The Big Circus, Allied Artists, 1959
The Bat, Allied Artists, 1959
The Tingler, Columbia, 1959
House on Haunted Hill, Allied Artists, 1959
House of Usher, American International, 1960
The Pit and the Pendulum, American International, 1961
Poe's Tales of Terror, American International, 1962
The Raven, 1962
Confessions of an Opium Eater, Allied Artists, 1962
The Tower of London, United Artists, 1962
Convicts 4, Allied Artists, 1962
The Comedy of Terrors, American International, 1963
The Masque of the Red Death, American International, 1964
The Last Man in the World, 1964
War Gods of the Deep, American International, 1965
The Tomb of Ligeia, American International, 1965
Dr. Goldfoot and the Bikini Machine, American International, 1965
Dr. Goldfoot and the Girl Bombs, American International, 1966
The House of 1000 Dolls, American International, 1967
The Conqueror Worm, American International, 1968
More Dead Than Alive, United Artists, 1969
The Oblong Box, American International, 1969
Scream and Scream Again, American International, 1970
The Abominable Dr. Phibes, American International, 1971
Dr. Phibes Rises Again, American International, 1972
Theatre of Blood, United Artists, 1973
narrated, The Devil's Triangle, Maron, 1974
Madhouse, American International, 1974
Scavenger Hunt, Twentieth Century-Fox, 1979
The House of the Long Shadows, 1983


&nbsp
Vincent Price Shop on Amazon.com
&nbsp
Other Actors Who've Played The Saint
Portrals of Simon Templar on Film in Movie Motion Pictures:

Louis Hayward, George Sanders, Hugh Sinclair, Jean Marais, and Val Kilmer

The Saint Radio shows on Old-Time Radio:

Vincent Price, Barry Sullivan, Brian Aherne, Edgar Barrier, Felix Marten, Lawrence Dobkin, Paul Rhys, Terence De Marney, Tom Conway, and Tom Meehan

Actors who played The Saint on Television TV Programs:

Roger Moore, Ian Ogilvy, Andrew Clarke, Simon Dutton, and Adam Rayner

Starring as The Saint in Photoplay:

Leslie Charteris