Leslie Charteris
Actor who played Simon Templar, alias The Saint, in a Photoplay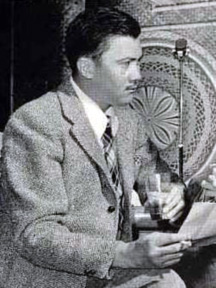 Leslie Charteris played The Saint in the 1940s Life Magazine photoplay.

In the early 1940s, Life magazine asked Leslie Charteris to write the plot of a new Saint story for a photographic essay photoplay to appear in a forthcoming issue of Life Magazine. Leslie agreed on the condition that he would be the one to portray Simon Templar in the photoplay. And so he did, complete with the monocle that he affected at the time. This was the only time Leslie Charteris played his own creation, Simon Templar, alias The Saint.

The photoplay that featured Leslie Charteris as his own fictional detective, Simon Templar, appeared in the May 19, 1941 issue of Life magazine. This issue of Life magazine featured "Floppy Hats" on the cover.

The story was titled The Saint Goes West and was later written up by Leslie Charteris with a similar plot as the novella, Palm Springs, that became part of the book, The Saint Goes West.

---
Other Actors Who've Played The Saint
Portrals of Simon Templar on Film in Movie Motion Pictures:

Louis Hayward, George Sanders, Hugh Sinclair, Jean Marais, and Val Kilmer

The Saint Radio shows on Old-Time Radio:

Vincent Price, Barry Sullivan, Brian Aherne, Edgar Barrier, Felix Marten, Lawrence Dobkin, Paul Rhys, Terence De Marney, Tom Conway, and Tom Meehan

Actors who played The Saint on Television TV Programs:

Roger Moore, Ian Ogilvy, Andrew Clarke, Simon Dutton, and Adam Rayner

Starring as The Saint in Photoplay:

Leslie Charteris