Hugh Sinclair
Actor who played Simon Templar, alias The Saint, in the Movies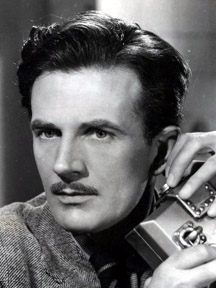 Hugh Sinclair played The Saint in the RKO films from the 1940s.

Hugh Sinclair was born in London, England on May 19, 1903. He was married to Rosalie Williams, and had two children. He died on December 29, 1962 in Slapton, England.

Sinclair was a London-born actor trained for stage work at the Royal Academy of Dramatic Art. He made his theatre debut in 1922 with "The Rose and the Ring."
Hal Erickson, All Movie Guide
On-stage from 1922, British leading man Hugh Sinclair made his first important film appearance in the 1935 version of Escape Me Never. Thereafter, Sinclair spent most of his time in the theater, though he continued showing up infrequently but memorably in films until 1953. He played one of the Four Just Men in the 1939 adaptation of the Edgar Wallace suspense novel, and twice played Leslie Charteris' roguish hero Simon Templar (aka the Saint) in The Saint's Vacation (1941) and The Saint Meets the Tiger (1942). One of Hugh Sinclair's better later film roles was Richard Graham in The Rocking Horse Winner (1950).

1941 The Saint's Vacation
RKO Radio Pictures-UK, 78 minutes, 7059 feet. Released in the USA on May 9, 1941

Adapted from the Leslie Charteris novel The Saint's Getaway (9-B11, 1932). Directed by Leslie Fenton. Produced by William Sistrom. Screenplay by Leslie Charteris and Jeffry Dell.

Starring Hugh Sinclair as Simon Templar, Sally Gray as Mary Langdon, Arthur MacRae as Monty Hayward, and Gordon McLeod as Inspector Teal.

1943 The Saint Meets The Tiger
Republic Pictures-USA, RKO Radio Pictures-UK, 79 minutes, 7068 feet. Released in the USA on July 29, 1943.

This movie was produced in 1941 by RKO Radio British Productions, but turned over to Republic for distribution. Adapted from the Leslie Charteris novel The Saint Meets The Tiger (1-B17, 1928). Directed by Paul Stein. Produced by William Sistrom. Screenplay by Leslie Arliss and Wolfgang Wilhelm.

Starring Hugh Sinclair as Simon Templar, Clifford Evans as Sidmarsh, Jean Gillie as Patrica Holmes, and Gordon McLeod as Inspector Teal.


&nbsp
Hugh Sinclair Shop on Amazon.com
&nbsp
Other Actors Who've Played The Saint
Portrals of Simon Templar on Film in Movie Motion Pictures:

Louis Hayward, George Sanders, Hugh Sinclair, Jean Marais, and Val Kilmer

The Saint Radio shows on Old-Time Radio:

Vincent Price, Barry Sullivan, Brian Aherne, Edgar Barrier, Felix Marten, Lawrence Dobkin, Paul Rhys, Terence De Marney, Tom Conway, and Tom Meehan

Actors who played The Saint on Television TV Programs:

Roger Moore, Ian Ogilvy, Andrew Clarke, Simon Dutton, and Adam Rayner

Starring as The Saint in Photoplay:

Leslie Charteris