Félix Marten
Actor who played Simon Templar, alias The Saint, in the Movies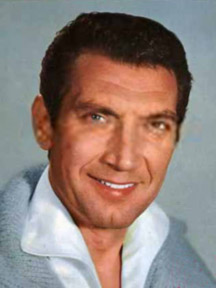 Felix Marten played The Saint in a single 1960s French movie.
Biography
Félix Marten (his complete name was Felix Paul Gabriel Marten) was an actor and a French singer who was born October 29, 1919 in Remagen (Germany) and died November 20, 1992 in Saint-Cloud (France). He was well-known in France for his many record albums as well as his film career.
Selected Filmography for Félix Marten
Escapade (1957)
Ascenseur pour l'échafaud (1958)
Nathalie, agent secret (1959)
Saint mène la danse, Le (1960)
Huitième jour, Le (1960)
En plein cirage (1962)
Zigeunerbaron, Der (1963)
Bonne soupe, La (1964)
Temps des loups, Le (1969)
Horse, La (1970)
Raisins de la mort, Les (1978)

1960 Le Saint Mène La Danse
1960 The Dance of Death
Films Du Cyclope - Lux Films; Paramount.

Le Saint Mène La Danse (The Saint Leads the Dance) was very loosely based on the Leslie Charteris short story, Palm Springs, from The Saint Goes West (23-B24, 1942). Directed by Jacques Nahum. Screenplay by Albert Simonin and Jacques Nahum.

Starring Felix Marten as Simon Templar, and Jean Desailly as Fred Pellmann

This film was released in the US by Paramount Pictures as The Dance of Death and although the main character's name was Simon Templar, the "Saint" was never mentioned.

---
Other Actors Who've Played The Saint
Portrals of Simon Templar on Film in Movie Motion Pictures:

Louis Hayward, George Sanders, Hugh Sinclair, Jean Marais, and Val Kilmer

The Saint Radio shows on Old-Time Radio:

Vincent Price, Barry Sullivan, Brian Aherne, Edgar Barrier, Felix Marten, Lawrence Dobkin, Paul Rhys, Terence De Marney, Tom Conway, and Tom Meehan

Actors who played The Saint on Television TV Programs:

Roger Moore, Ian Ogilvy, Andrew Clarke, Simon Dutton, and Adam Rayner

Starring as The Saint in Photoplay:

Leslie Charteris